Top Porta Cabin Manufacturer in China
K-home porta cabin is made of galvanized steel frame and insulated sandwich panels. Using modular technology, standard size production. Easy to relocated, detachable, fast installation, low transportation cost, and complete supporting facilities. The standard porta cabin sizes are 20ft and 40ft, also can be custom designed according to your needs, stacked up to 3 layers. Regular porta cabin container has one ready-made door, two windows, two lamps, floorboard, ceiling, and electrical system. The wires are fully enclosed, with good fire resistance and high seismic performance, which will escort your stay.
The portacabin is designed with excellent safety performance, all-steel frame designs with a good drainage system can effectively resist earthquakes, strong winds, and rains. The wall is made of fireproof material, which can also prevent moisture in the case of sound insulation and heat insulation. If your area has more rain, don't worry! The roof waterproof can be flat-top or double-slope roof structure according to your climate characteristics. The portacabin average lifespan is more than 15 years, which is very convenient for later maintenance. Only the damaged parts need to be replaced. What's more, the used porta cabin can be as a warehouse, so it is multi-functional.
Product Details
Porta Cabin Design
K-home can easily serve an accommodation or office need anywhere there is a shortage.
Our pre-built porta cabin is suitable for hurricane and island conditions. Whether you were ready for modular building for your projects, accommodation, mobile classrooms or school buildings, a medical center, welfare unit, a laboratory, ablution blocks, or a canteen, you will definitely find a portable modular building solution that meets your expectations.
Specification
| Porta Cabin Structures | Specifications |
| --- | --- |
| External size | 5950(L)*3000(W)*2800(H) mm |
| Steel frame | The steel frame is Q235 galvanized fitting; |
| Roof insulation | The ceiling is blue color steel pre-coated 0.4mm outside strong steel sheet; |
| | With 50mm glass wool insulation material; |
| Roof ceiling | The ceiling is shaped steel plate with different pattern |
| Floor System | |
| Steel frame | 3mm Galvanized Steel for main structure + 1.5mm square tube for the secondary beam |
| Floor | 15mm chipboard + PVC leather floor |
| Column System | |
| Column | 2.5mm Shaped Galvanized Steel |
| Wall System | |
| Wall Panel | Material: Rock Wool/PU/PIR Sandwich Panel |
| | Thickness:50mm/75mm/100mm |
| | The outside color is light silver-gray (0.35mm thickness steel ); |
| | Inside is white color steel (0.35mm thickness steel ). |
| Door & Window System | |
| One Door | Material: Steel door |
| | Size:2000*980mm(H*W) |
| Two Windows | Material: Aluminum alloy steel double hollow glass sliding window (including screens) |
| | Size:1200*1000mm(H*W) |
| Electric System | Includes: one ordinary LED light, A-SW double sockets 2set, A-SW air-switch 2 set, |
| | Electrical box with safety protection device connecting cable for connecting; |
| Accessories | Electric wire; Sealant; Wiring tube; Screws and other accessories. |
K-home Porta Cabin
K-home is a high-quality portable cabin manufacturer in China. We are located in Xinxiang, Henan, the birthplace of China's container housing. Relying on the Asian transportation hub and being close to Qingdao Port, has resulted in convenient transportation and lower transportation costs. We have a complete industrial chain, and container houses in Xinxiang account for more than 70% of China's market share. We have 15 years of experience in portacabin manufacturing, as a result of our high-quality products and outstanding customer service, we have gained a global sales network reaching, Philippines, Singapore, Indonesia, Kenya, Nigeria, France, Australia, Ethiopia, Spain, Mali, Somalia, Iceland, etc. We made a huge boost to the development of international trade. Eagerly welcomed to visit our factory.
Contact Us So That We Can Meet Your Needs.
Porta Cabin Accommodation for Construction Site
Porta Cabin Accommodation is a very helpful product in the construction industry whether it is a government project or the private project. Nowadays portacabin is getting very popular the reason behind its popularity is that the frequent use at the site in the construction industry. Therefore the Portacabin makes the work easy and fast at the construction site.
Portable cabins are used for various purposes like worker accommodation to stay temporary for all workers, portable site offices for staff meetings and discussions, portable stores to store the material, and others all the important equipment which is to be used during the construction. Portable laboratory for any kind of testing regarding the project.
What Is Porta Cabin?
Porta cabin is a kind of temporary building, also called of detachable container house. Its standard size is 5950(L)*3000(W)*2800(H) mm. Prefabricated Porta Cabin is a multifunctional solution for engineering project camps and commercial spaces.
Portackabin can be moved to various places anytime and anywhere, bringing people a more convenient and comfortable life. Solar photovoltaic panels can be used for indoor electricity, solar water heaters can be used for heating and water supply. Depending on the number of personnel, can be customized different space layout. It is widely used in on-site offices, meeting rooms, staff dormitories, schools, hospitals, laboratories, refugee camps, toilets, storage rooms, etc.
What you Should Know Before Buying a Porta Cabin?
Before purchasing a portacabin, please be sure to read this pre-purchase guide, which will help you find a good supplier and understand some things that must be considered when installing.
1. Learn About the Porta Cabin Structures
The main structure of the prefab cabin is stable. The primary consideration for large camp construction is safety. The portacabin can be stacked up to 3 floors, and the density of the purlins of the bottom frame determines the load-bearing capacity and overall safety of the floor.
Ensure that the portacabin has a good drainage system. The drainage system of the porta cabin is very important. If you do not consider this when buying, it will become a headache for you when it rains heavily. A good portable building should be weatherproof and have strong resistance to natural disasters.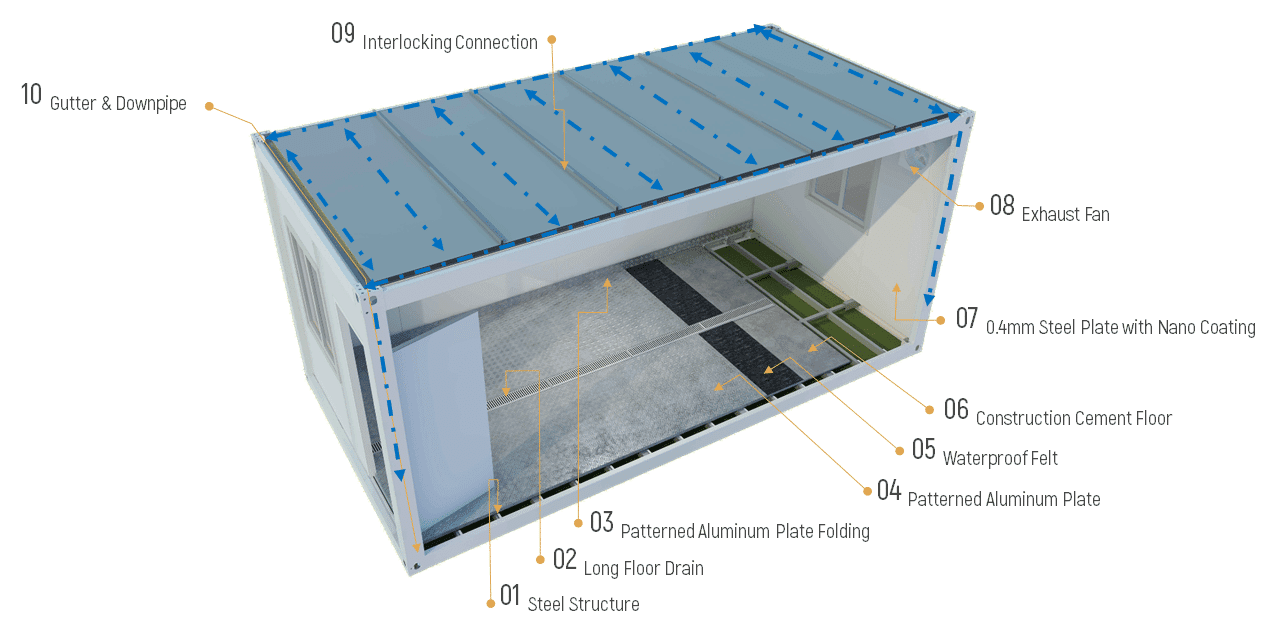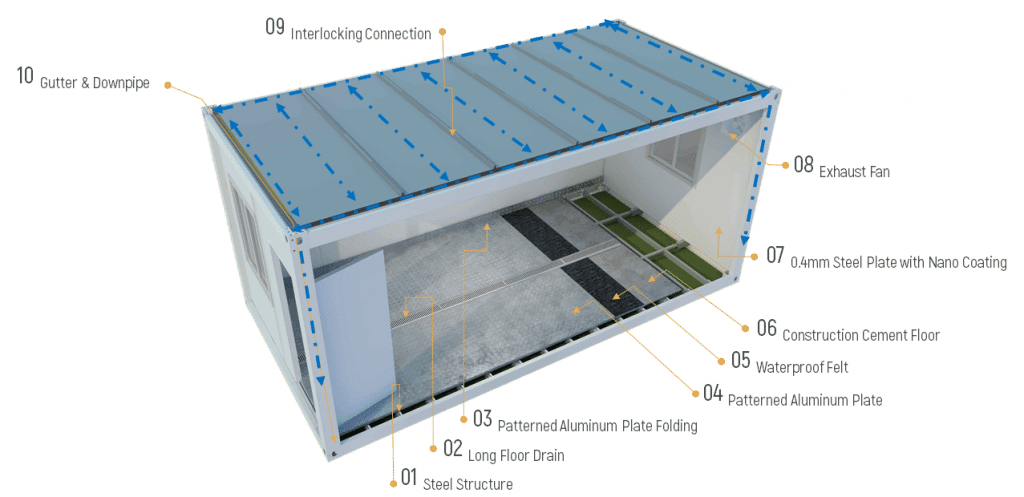 Ensure that the porta cabin has a good internal seal. Inferior porta cabins may have very poor sealability and may make some noise when there is strong wind. The Porta cabin, which is well-sealed, does not have this problem.
Prefabricated porta cabin aesthetics. The porta cabin should have a beautiful appearance and complete internal facilities. So make sure that the portable building you buy has matching finishes and does not require additional exterior paint.
Electrical facilities. Depending on the purpose of your Porta cabin, it is strongly recommended that you ensure that you provide the correct wiring, lighting and sockets.
insulation. When looking for a suitable portable structure as a storage building, make sure it has adequate and proper insulation.
Plan plumbing in advance. Installing the plumbing system before installing the floor and ceiling makes it easier to manage the plumbing.
2. Study Your Local Regulations Carefully.
Each country has its own rules and standards. Porta cabin is a universal product, but the climate and fire protection regulations are not the same.
3. Find a Contractor Who Can do Everything
Find a high-quality porta cabin contractor to assist in the entire after-sales and installation process, rather than choosing inferior products and services for lower prices. K-home specializes in providing porta cabin construction for construction sites and large camps. Our projects cover Mali, Ethiopia, Kenya, Nigeria, Guatemala, Guyana, Australia, Philippines, Singapore, Japan, Indonesia, Myanmar, Thailand, France, Belize, etc. In many countries, our porta cabin has passed ISO and CE certification, and the service life is more than 15-20 years.
We have a professional sales, design and after-sales service team. Our Service Include:
Layout plan can be designed if needed.
Installation introduction / CD / installation drawing will be provided if needed.
Engineers and workers can be sent abroad for guidance and installation.
5 professional engineers for consultancy and enquiries.
Why Porta Cabin?
1. Porta Cabin Advantages
Porta cabin as a temporary building, meet the need for affordability and safety, and comfort and are the most ideal solution for large camp housing, construction site housing, temporary offices, resettlement housing, temporary schools, and temporary hospitals.
2. Low Construction and Installation Cost
Porta Cabin is made of modular lightweight steel construction that is easy to assemble, inexpensive, and has a short construction cycle. Compares to the permanent building, as the data shows prefabricated porta cabin is about 30% cheaper than the cost of a permanent building.
3. Easy to Move and Install
Porta Cabin is a portable structure that can be repeatedly disassembled and reassembled and can be easily transported to new project sites by crane. The setting-up of the prefabricated porta cabin on-site is easy and quick. All the parts are pre-produced in our factory. 3 workers in one unit, could install 3 prefabricated porta cabins in one day. Per prefabricated porta cabin is 6meters long, 3meters wide, and 2.8 meters high.
4. Recycle To Use
Once your project is finished in 1 or 2 years, have to shift to another place, the house could be disassembled, and transfer all the parts to another place to make assemble again. Under proper maintenance, the prefabricated portacabin could recycle to use 3 times.
5. Easy to Customize, Flexible Layout Design
The Porta Cabin comes in a standard size of 20ft, but can of course be custom designed to meet your needs, with internal partitions that can be added to meet your project requirements.
6. Easy to Build Porta Cabin Foundations
Considering the drainage system, a porta cabin needs to be built on a foundation, and there are usually two ways to build a foundation.
Full Concrete Foundation.
If used to build a camp, the thickness of the concrete foundation depends on the number of floors in the project. If it is used for storage, it depends on the weight of the materials or equipment placed in the porta cabin.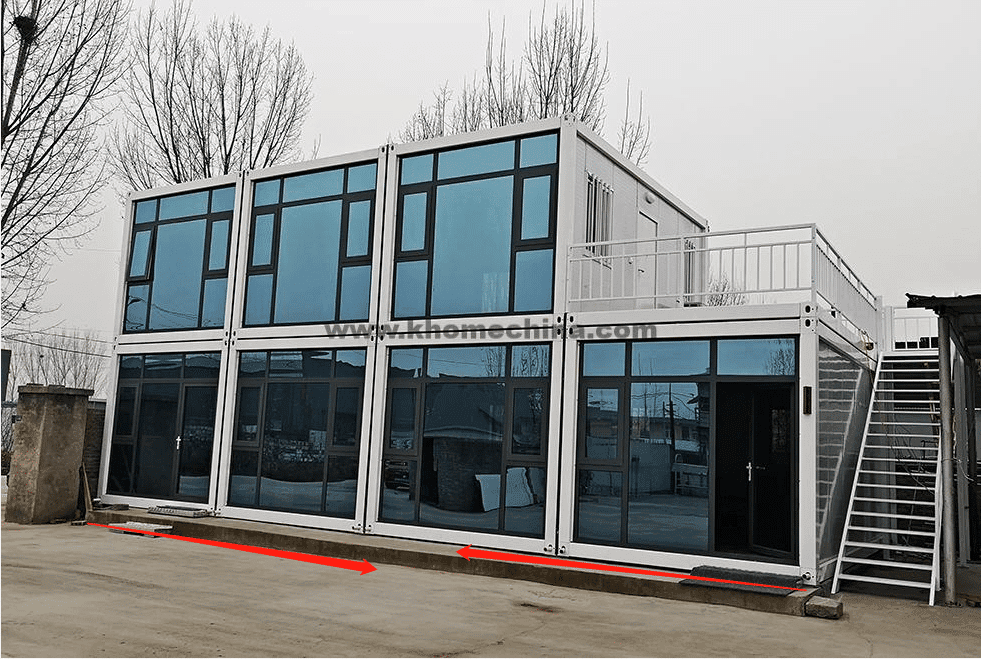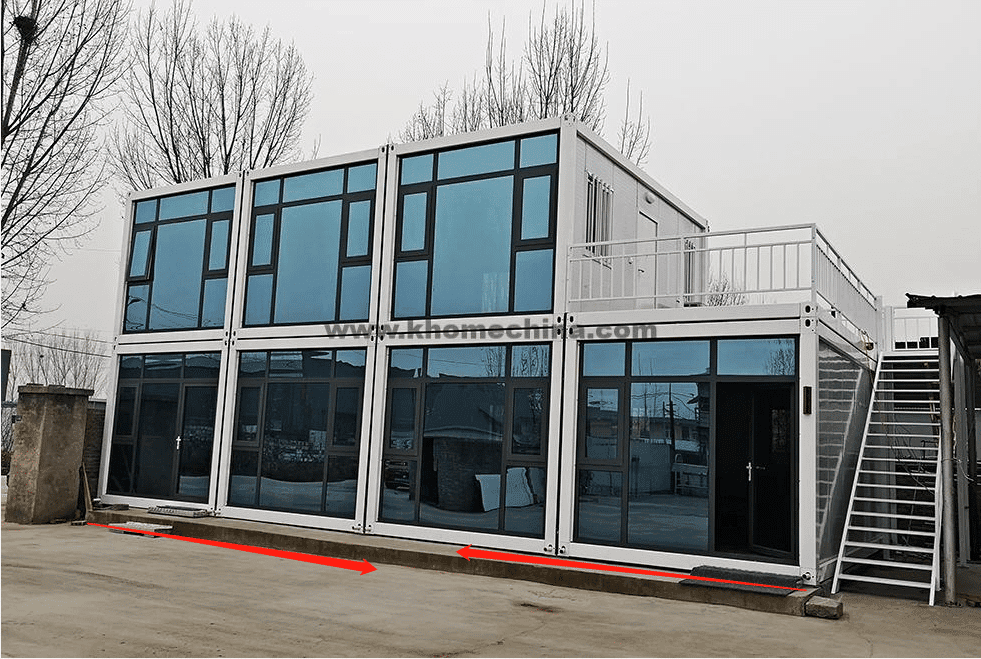 Make a Base.
Our most common method is to use bases for porta cabin foundations, using 6 bases per porta cabin unit.
What Are Porta Cabin Walls Made Of?
The porta cabin wall panels are made of sandwich panels. There are three different materials and thicknesses to choose from, depending on climate and geography. These wall panels are good for any bad weather.
No.
Wall Panel Types
Thickness
Options
1

Rockwool Sandwich Panel

50mm/

75mm/100mm

Standard Options.

The most cost-effective choice.
2
Polyurethane Sandwich Panel
50mm/75mm/100mm
high-end choice, better performance, more beautiful.
3
EPS Foam Sandwich Panel
50mm/75mm/100mm
the cheapest option, the shorter service life choice.
The sandwich panel consists of two layers of galvanized metal panels (or panels of other materials) and a polymer insulation core that is foamed and cured directly in the middle of the panel, which is easy to install, lightweight, and efficient. Sandwich board is a common product in modern building materials, which is not only good in flame retardant and sound insulation, but also environmentally friendly and efficient.
It is widely used in Purifying factories, combined house, building top attachment, indoor partition, automobile painting room, refrigerator, and other projects, e. G. Interior decoration of civil building for medicine, electronic, foodstuff, beverage, vegetable preservation, and large refrigerator, etc.
Features Of Sandwich Panels:
The weight per square meter is less than 24kg, which can fully reduce the structure cost.
Light weight, plug-in, installation and free cutting characteristics, which determine the ease of installation, which can improve efficiency and save construction period.
The surface material and heat preservation material of the color steel composite core board are non-combustible or non-combustible materials, which can meet the requirements of fire protection regulations.
Colored steel plates treated with special coatings will last for 10-15 years. Afterwards, anti-corrosion coatings will be sprayed every ten years, and the life of the plates will reach more than 35 years.
The clear lines of the profiled steel plate are as many as dozens of colors, which can meet the needs of any style of building.
Thermal insulation Commonly used thermal insulation materials. Include: rock wool, glass fiber cotton, polystyrene, polyurethane, etc., with low thermal conductivity and good thermal insulation effect.
Environmental protection and noise prevention.
The sound insulation strength of the composite board can reach 40-50 decibels, which is a very effective sound insulation material.
The plasticity and strong profiled steel plate can be cut arbitrarily, which can meet the needs of special design.
High-strength High-strength steel plate is used as the base material, the tensile strength is 5600 (kg/cm2), plus the most advanced design and roll forming, it has excellent structural characteristics.
How to Build a Porta Cabin?
Could you send your people to install for us?
Generally, we're glad to arrange for our engineer to guide installation, it can not only speed up your installation, reduce errors, but also be convenient for our work. Now it's hard to go out because of the spread of the epidemic, so we do lots of to perfect our installation files as following:
1. Detailed porta cabin installation video.
2. Vivid 3D porta cabin installation steps
3. Customized CAD installation layout
4. Customized Detailed installation steps
Any inexperienced workers can install the house without any problems according to our installation file, of course, it'll be great if you can find any installed workers.
Second, our portacabin container is a modular system, its design is easy to master installation ways to install, one standard container unit can be finished within 3 hours by 3-4 skilled workers, Inexperienced workers can take up to twice as long to install. For example, in our Singapore 2 story workers dormitory project in September, It took only one month for 10 inexperienced workers to install 62 sets. In addition, if you still have concerns, you can contact the project contractor.
Last but not least, We are a trustworthy company. Our porta cabin has one year warranty, we promise that if the house has any quality problems, we will reissue it and cooperate with you to complete the installation smoothly. now, there are many old clients who continue to give us orders and introduce new customers to us, for example, our Indonesian customers gave us orders every year from 2015.
How to Transport and Delivery Porta Cabin?
Transport and Logistics
Porta Cabin, as a modular temporary building structure, is designed in a very convenient way for transportation. Under normal circumstances, the minimum order quantity is 4 units, so that all parts can be packed in an ISO 20HQ shipping container and transported to your location. If your project demand is relatively large, you can choose 40 HQ shipping containers for transportation, each box can be loaded with 10 Porta Cabin unit components, which will greatly save transportation costs.
On Time Delivery
Porta Cabin's production and delivery speed is very fast, our monthly production capacity is 400 sets, and less than 60 sets can be delivered immediately. The general lead time is 15-30 days. The specific delivery time depends on the quantity you need. K-home has professional production equipment and a large amount of inventory and is definitely your reliable partner.
Project Show
Recent Blogs