Portable Site Office Container in Our Factory
Product: Container Office
Manufactured by: K-home
Purpose of Use: Site Office
Quantity: 7 Units
Capacity:10 People
Time: 2020
Location: China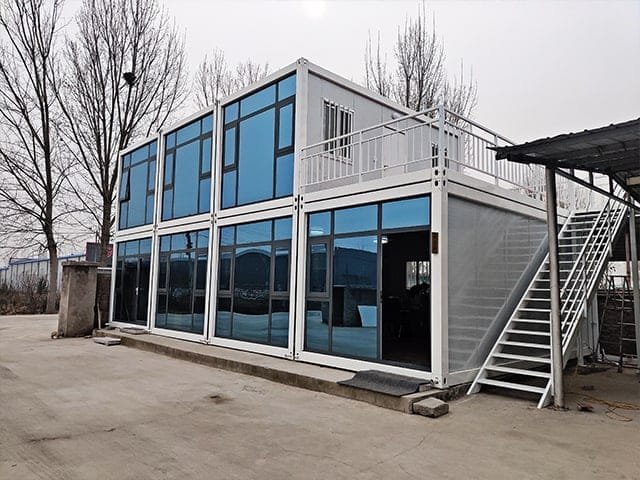 Last week, we have built a Portable Site Office Container in Our Factory. This is a 2 story container office, total consisted of 7 units standard container and 1 platform. We completed it in 2 days, then our worker moves in.
Here I would like to introduce to you how we install the office from the beginning.
Firstly, we assemble all the steel structures for each unit on the ground. Meanwhile, prepare the foundation for it. For this container house, the foundation can be very simple, just make a pillar under the beam is enough. Then put the 4 units modular office in the requested area.
After the first floor is completed, we put the second floor, should you crane lift it on the top. Then we use locks for all the container units, no matter they are connected horizontally and vertically. The PVC leather, vertically skirting line, bottom, and above skirting, line assembles at the same time.
After all, is done, we will install the glass wall.
Photo Gallery >>