Cheap, Easy to Install, Prefabricated Houses in Pakistan
Prefabricated houses in Pakistan consist of light steel structures and sandwich panels for walls and roofs. The height of the standard prefabricated house is 2.85m, and partition panels can be installed inside to maximize the use of space. As a modular structure prefabricated house, all its components are prefabricated in the factory and are transported to the installation site to be connected by bolts. The house can be disassembled six times and has a service life of more than 15 years.
In the construction sector of Pakistan, the concept of prefabricated houses is quite new. Once this affordable prefab house was listed, it attracted many local investors and construction companies to build temporary housing for workers and low-income people.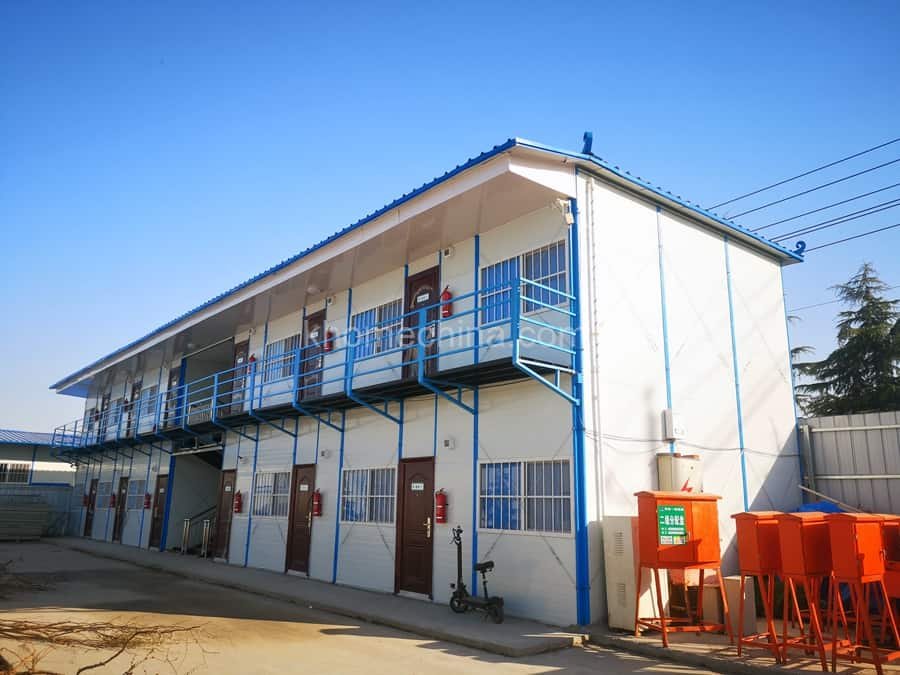 Prefabricated Houses History
The beginning of prefab construction was because of the colony.

If the prefabrication of architectural components and parts can be assembled on-site within a short period of time as a prefabricated building, the beginning of the prefabricated building is the end of the 18th century.

At that time, the colonies of European countries urgently needed a large number of emergency buildings, such as meeting places, hospitals, and administrators' houses. Because of the lack of materials in the colonies, the colonial countries began to prefabricate various walls in their own countries, such as lightweight wooden wall panels, and then transport them to the colonies for assembly and use.
At the beginning of the 19th century, there were already standard houses for colonists in the colonies. European countries shipped a large number of prefabricated buildings in various forms to various colonies at that time.

Modular hospital and colonial ruler's residence were built in Sydney, Australia in 1787.
Steel structure prefabricated building built because of the invention of new materials. The invention of new materials at the beginning of the 19th century promoted the development of steel prefabricated buildings. The "Crystal Palace" was built in the British Empire World Expo in 1851. The construction of the Crystal Palace used prefabrication technology. Even if the Crystal Palace designed by Joseph Paxton is compared with today's technology, there are many prefabricated buildings in common.
Use modulus.
Standardization and prefabrication of parts, and mass production.
Dry construction method with bolt installation.
Interchangeability of parts without choosing the installation location.
Short duration.
The structure is separated from the exterior, and the exterior is portable.
Mechanization of field operations.
Prefab Houses in Pakistan
The prefabricated houses have different sizes but have fixed parameters & formulas to calculate the dimensions & areas. The most common design is 3K12K6P, dimension 5.62m22m5.7H, which is a 289.89m2 area of 2 floors including 2 stairs, can fit in 140`HQ as 1 set. 140HQ can load around 280-320m2. The main steel structure is made from "C" section steel, with EPS/IEPS/Glass wool sandwich panel for wall & roof! 6 workers can build 100sqm in one day! Can be done as 1 floor, 2 floors, or 3 floors building!
Use of Prefabricated Houses
Temporary Site Offices
Labor Camps
Temporary Schools
Resettlement Houses
Government Project
Prefabricated Houses Technical Parameter
Wall panel: V950 EPS sandwich panel 50mm thickness, steel plate: 0.3mm
Partition plate: V950 EPS sandwich panel 50mm thickness, steel plate: 0.3mm
Roof board: V950 EPS sandwich board 50mm thickness, steel plate: 0.3mm
Two-layer plywood floor with a thickness of 16mm
Rain shed: a layer of color steel plate with a thickness of 0.45mm
Window PVC sliding window 0.93mx1.715m
Door: Sandwich panel door 0.85mx2.1m
General bolts: different sizes
Grounding channel: C-shaped steel C80x40x15x2.0
Double column: C-shaped steel 2C80x40x15x2.0 welding
The second layer beam: steel frame 2C80x40x15x2.0, L40x4 welding
Roof Pur Strip: Angle Steel L40x4
Roof support: Angle steel L40x4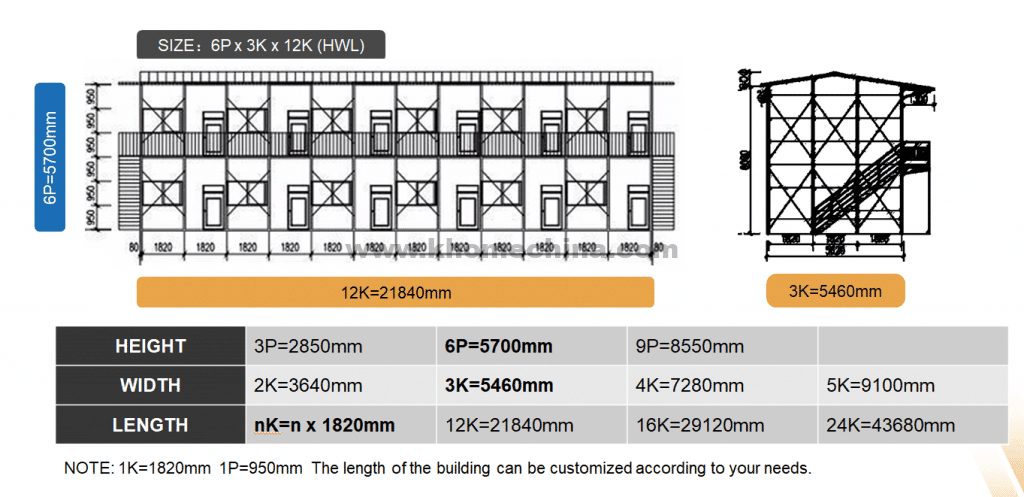 Benefits of Prefab Housing
Reliable structure: It can resist the wind of 110km/h.
Perfect anti-corrosion performance: The structure is made of cold-formed galvanized steel, which has better corrosion resistance.
Short processing time: mass production of machinery, easy to shorten the processing cycle.
Excellent sealing performance: The structure is hidden in the house and exterior panels to maintain a seamless connection with the tongue and groove system.
Easy to install: The structure is connected by bolts and nuts without welding at all, which greatly shortens the construction time.
Flexible design: It can be customized according to customer needs.
Prefabricated Houses Prices in Pakistan
The average cost of constructing a prefabricated house in Pakistan is US$30~US$60 per square foot, including interior decoration and transportation costs. The construction of prefabricated houses includes drawing design, site preparation, foundation, delivery, installation, and equipment construction.
Prefabricated Houses Supplier in Pakistan
K-home specializes in the design, manufacture, and construction of prefabricated buildings and is a leading supplier of prefabricated houses in Pakistan and southeast Asian countries. We export our prefabricated steel buildings and prefabricated container house layers to various regions such as the Philippines, Singapore, Malaysia, Myanmar, Thailand, Indonesia, etc.
Up to now, K-home has successfully delivered thousands of assembled housing projects in over 80 countries, including camp planning, architectural design, transportation, on-site installation, and provision of ancillary facilities, etc. K-home's superior product quality, superb construction workmanship, and attentive after-sales service have been highly evaluated by our customers. With decades of rich experience in overseas assembled house construction and the accumulation of policies, laws, customs, cultures, and climates of different countries that affect the smooth implementation of projects, K-home has been leading the overseas assembled house construction in China and has become the preferred supplier of well-known large construction enterprises in Southeast Asian countries.
Recent Blogs