modular portable cabin
portable cabins / portable rooms / portable office cabin / portable cabin buildings / flat pack portable cabins / portable cabin buildings
modular portable cabin
A portable cabin refers to a structure that is designed to be easily movable or transportable. These portable cabins are often used for various purposes and can be relocated as needed. They come in different sizes and configurations, and their portability makes them versatile for different applications.
Prefabricated portable cabin Design
Imagine being able to visualize the design of your modular portable cabin before installation through CAD drawings and 3D renderings – it's an exciting prospect! And now, with K-HOME's personalized design service, you can guarantee that your unique needs and preferences will be met. Our team of professional designers offers a wide range of customized options to ensure that your tiny home is perfect for you. Don't wait any longer, contact K-HOME today for an exclusive prefab portable cabin container house design that's sure to exceed your expectations!
portable cabin unit Design
Why choose K-HOME portable cabin manufacturer?
If you are interested in buying portable cabins, please contact us. K-HOME is a portable cabin supplier in China. We focus on modular portable structural building manufacturing, and portable cabins are part of our product range. We have a series of options available for purchase, and you can contact us to get a free customized portable cabin design. These portable cabins are all brand new, and they are prefabricated portable cabin houses, almost everything is prefabricated in our factory, so you can easily get it.
We provide a modular design portable cabin. Here we have some standard sizes for you to choose from. Of course, we also support various functions and custom options. Please tell us your specific needs and the number of portable cabins, we will give you a detailed quotation and delivery date. If you are worried that you cannot install the portable cabin, then please contact us. K-HOME provides detailed installation guidance, including installing drawings, installation videos, and guidance installation services. Even we can arrange for the installation team or The engineer to go to your construction site, which is very helpful, especially when you buy from a distance.
How to install a Prefabricated container house step by step?
We offer various prefabricated portable cabins tailored to meet diverse customer demands. Our most popular options include the detachable portable cabin and flat-pack portable cabin. The detachable version is wider, measuring 3 meters, compared to the flat-pack container house. As all the detachable container components can be disassembled, multiple sets can be configured into shipping containers to reduce transportation expenses, making it ideal for customers looking to minimize shipping costs. If you're looking to save time, the flat-pack container houses, which come in a narrower 2.4-meter width, may be a more suitable option. The convenience of pre-installed roofs and bottoms in the factory provides onsite assembly, allowing for time and cost savings during the installation process. Both types of cabin container houses offer a comfortable lifestyle for residents. We ensure to provide the most cost-effective and efficient solution tailored to your individual needs and budget.
What are the Applications of K-HOME portable cabin buildings?
Prefabricated portable cabin projects show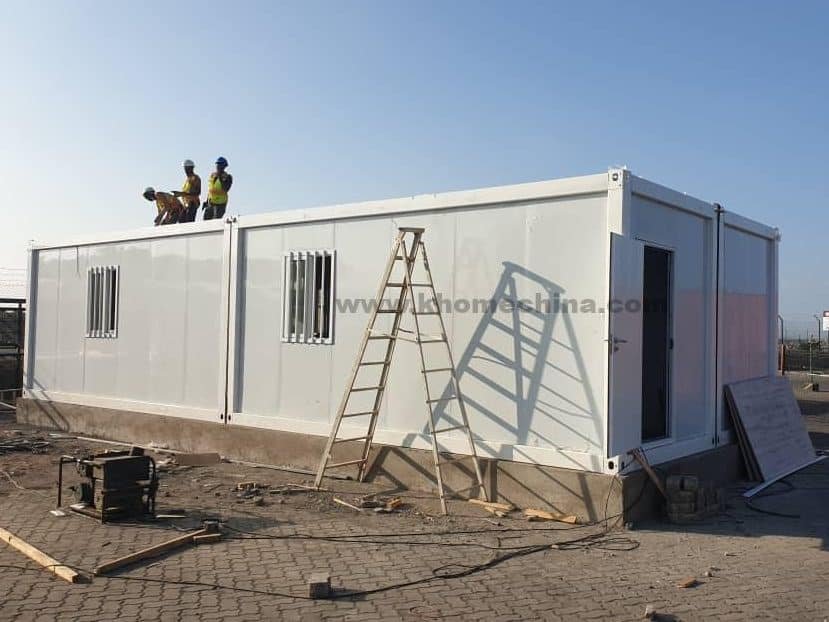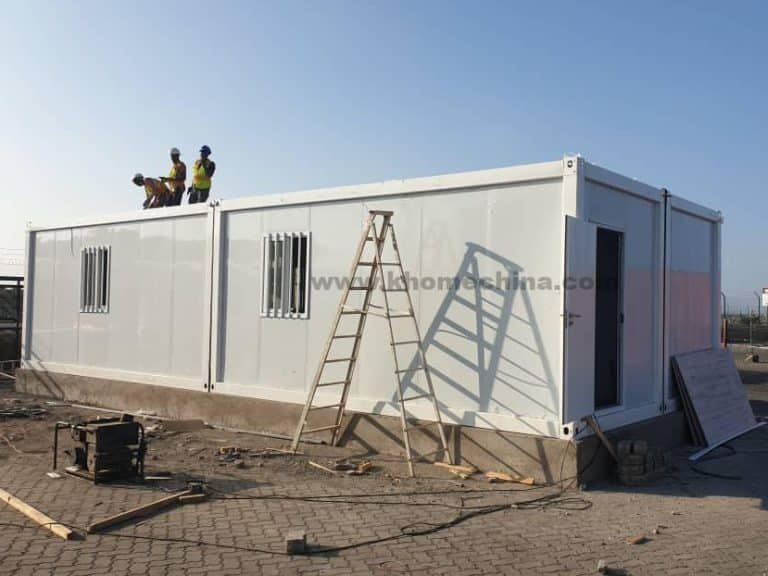 portable cabin in Djibouti
Learn more >>