Prefabricated Container Camp
The container camp is also widely called modular houses, mobile camps, portable camps, etc. It is made from a container house, this is all galvanized frame and enclosed with customized insulation sandwich panel. All the parts are connected by strong bolts and nuts. Now it is widely used in the world because it has really affordable prices and saves costs for investors.
The design with the excellent water drainage system in it, has 4 deep and wide galvanized water gutters on the roof, no matter how heavy the rain it is, it could collect the rainwater in time. And could send the water outside from the big water pipe on each corner of the house.
All the items are A1 fireproof and eco-friendly, and pre-fabricated in our factory, in this way will reduce lots of dangerous and heavy outdoor job for your workers, meanwhile, it will reduce noise or air pollution at local, so don't worry to disturb your neighbor when assembling your project.
Product Details
K-home can easily serve an accommodation or office need anywhere there is a shortage.
| | |
| --- | --- |
| Porta Cabin Specifications | |
| Roof System | |
| Steel frame | The steel frame is Q235 galvanized fitting; |
| Roof insulation | The roof tile is 0.5mm thickness galvanized steel plate. |
| | 50mm glass wool insulation material; |
| Roof ceiling | The ceiling is 0.4mm thickness galvanized shaped steel plate |
| Floor System | |
| Steel frame | 2.3mm thickness Galvanized Steel for main structure + 34 small square tubes for the secondary beam |
| Floor | 18mm MGO board + PVC leather floor |
| Column System | |
| Column | 2.3mm thickness Q235 Galvanized Steel |
| Wall System | |
| Wall Panel | Material: Rock Wool/PU/PIR Sandwich Panel |
| | Thickness:50mm/75mm/100mm |
| | The outside color is light silver-gray (0.4mm thickness steel ); |
| | Inside is white color steel (0.4mm thickness steel ). |
| Door & Window System | |
| One Door | Material: Steel door |
| | Size:2000*980mm(H*W) |
| Two Windows | Material: Aluminum alloy steel double hollow glass sliding window (including screens and security rod) |
| | Size:1200*1000mm(H*W) |
| Electric System | Includes: 1 ordinary LED light, A-SW double sockets 2set, A-SW air-switch 2 set, |
| | Electrical box with safety protection device connecting cable for connecting; |
| Accessories | Electric wire; Sealant; Wiring tube; Screws and other accessories. |
Container Camp Advantages
One-Stop Container Camp Construction Service
K-Home manufacture container camps, the camps used for the world. We provide a wide range of building sizes and include necessary furniture, sanitary accessories as requirements. Due to its all screw-connected features, it can be used in different fields with different spaces through different combinations. It can be connected horizontally infinite and stackable maximum of 3 floors. Now it is widely used for site worker camp, canteen, toilet room, shower room, lounge, school classroom, offices, etc.
K-Home is a professional container house manufacturer in China; we are located in the original city of container house- Xiaodian Industry Gathering Area, Xinxiang City, Henan Province. Here has the most advanced production machine, most experienced engineer, skilled workers could provide the best professional service to meet any of your urgent needs.
K-Home Container Camps
K-Home is located in Xinxiang City, Henan Province, the birthplace of container houses. Our company is a modern steel structure company integrating design, budgeting, manufacturing, and installation. We have our own factories, mainly engaged in foreign trade such as PEB steel structure workshops, prefab houses, and container houses. After years of hard work, the company has developed steadily and its products are sold to more than 20 countries including Pakistan, Russia, Saudi Arabia, South Africa, Kenya, Australia, Iceland, Jordan, Yemen, Ethiopia, etc. In 2015, we established overseas branches. At present, K-Home is committed to developing more new projects and expanding a wider market.
Eagerly welcomed to visit our factory.
Mining Camp Buildings for Construction Site
Our Assembly container is a movable and reusable construction product. It adopts modular design and factory production. The standard container unit size is 5950*3000*2800mm. It is the basic unit. It can be used alone, or it can form a spacious use space through different combinations of horizontal and vertical directions. The vertical direction can be stacked. The container house structure is a standard component welded with galvanized steel. They are connected by bolts. The total structure is simple and the installation is convenient and quick.
There is a very broad market for container camps, especially in construction sites, such as offices, dormitories, meeting rooms, camps, etc. If you need mining camp buildings, please contact us without any hesitation. We provide customers with professional solutions.
Standard Container Structure Specification Details
The wall is made of 50mm Rock Wool Sandwich Panel with double 0.4mm PPGI Steel Plate; The main frame of the product is pressed by special steel plate and have 4 pcs 160x160x2480mm column, which is sturdy and durable, and has strong earthquake resistance and deformation resistance. Both our bottom and roof purlin quantity are increased. The strong frame and enough thickness wall panel will ensure the stability of the house, the structure is safe and reliable.
Great water flow line:We modified the water drain system, each column are designed and equipped with 4 water drain pipe. and we design big water drain channel for roof structure,even for big rain, the house will be very water-proof.
Environmental Protection and Energy Saving. The container house is environmental-friendly and energy-saving. It will not produce any construction waste during the whole installation.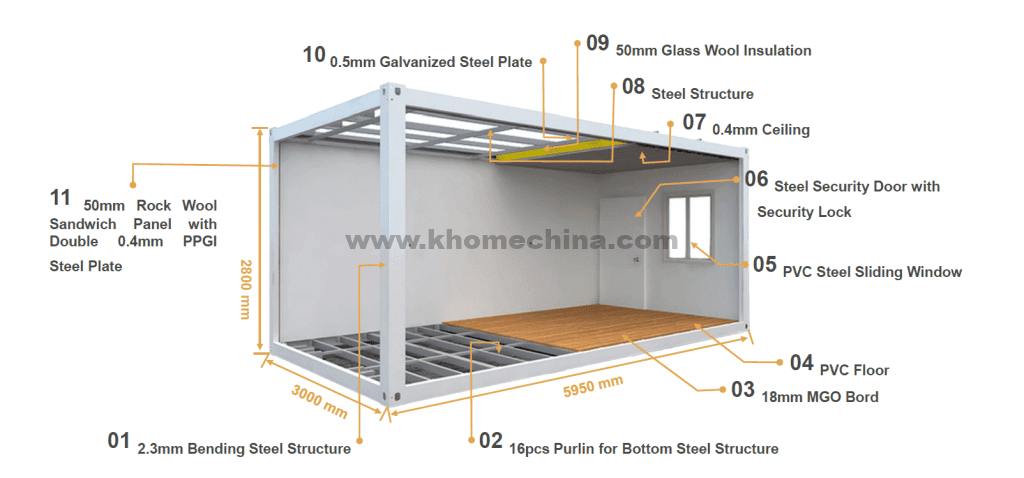 | No. | Types | Specification |
| --- | --- | --- |
| 1 | Wind resistance | Grade 11(wind speed≤120 km/h) |
| 2 | Earthquake resistance | Grade 7 |
| 3 | The snow load capacity of the roofing | 0.6 KN/m2 |
| 4 | The live load capacity of the roofing | 0.6 KN/m2 |
| 5 | External and internal wall heat transmission coefficient | 0.35 kcal/m2hc |
| 6 | Wall permitted loading | 0.6 KN/m2 |
| 7 | The density of rock wool | 50 kg/m2 |
Structural Calculations Made by Engineers
Assembly Container Transportation Advantage
Our assembly container house is detachable. It is in a bulk package and install on-site. Our container components are not welded but connected by bolts together. Thus we can make full use of shipping containers when we deliver the prefab house. One 40HQ shipping container can load 11 units of our standard size container houses. In this, it avoids damage to the container house during the transportation process and saves a lot in transportation costs for customers.
Our detachable containers can be flexibly combined to create expandable spaces. These container units are transported in a disassembled state, which greatly saves logistics costs. This is one of the major advantages of our containers. K-Home containers can save our customers up to 80% of ocean freight. This means that our container camps can significantly save total costs, especially a temporary solution suitable for accommodation is required in remote areas.
K-Home has always adopted cutting-edge high-tech production and design to provide customers with a safe and comfortable living environment. With our experienced support, you will get a modular container camp suitable for you. If your construction area is far away or you need to provide a temporary living environment for your employees, our container house is your best choice. The new portable container camp has flexible dimensions and complete supporting facilities. It is very suitable for construction contractors or workers near the mine.
If you have any questions or would just like to know more container camps details, please contact us! We are 24 hours online.
Related Product
Related Articles