Container School Project For Primary Kenya
Product: Prefab Container House
Manufactured by: K-home
Purpose of Use: Modular Container School
Quantity: 48 Units
Capacity:300 students
Time: 2019
Location: Kenya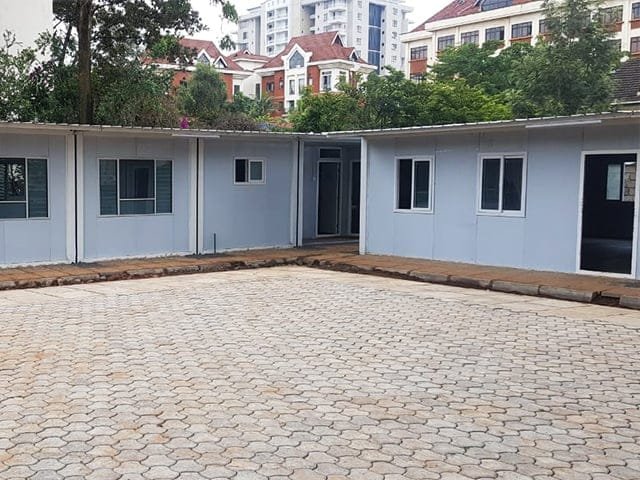 In order to allow children in poor areas to have a good education in Kenya, the K-home design department has proposed a very low-cost modular container school. We believe this measure will solve the problem of insufficient educational facilities because our mission is to protect the world's people from wind and rain.
The design mainly includes educational facilities such as classrooms, offices, playgrounds, and libraries. Among them, the portable classroom is the most demanded and the most important link. The container classroom is made up of two standard container houses, of which modular components include frame steel, glass panels, solar energy saving systems, drains, filter ducts, cisterns, windows, and furniture. These modular components only need to be transported to the site for installation with the container, saving a lot of time. This project is a very flexible modular expansion system. Its combination depends on actual needs. The classroom consisting of two containers can accommodate 24 students at the same time. Three containers can form a small playground. Six containers can form a large library.
This container school project is located in the hilly area of ​​Kenya. It is constructed from 48 units of 20ft container house and can accommodate a total of 300 students.
The construction area of ​​the primary school is 11,620 square feet (1080 square meters). The structure reserved by the Khome designer is very simple. It is composed of 10 modular classrooms (Each classroom is composed of 3 units standard container houses and can accommodate 30 students), 1 teacher office (made of 8 units container house ), 1 student canteen (made of 6 units container house), 2 portable washrooms (made of 4 units container house), and a large central courtyard. Because of the hot and rainy climate in Kenya. They chose a single-layer design with a rain canopy, the sides of some container houses were also taken out and passed through louvered walls, which are characterized by shading, and an open, bright, and airy space with a larger coverage area.
In addition, the doors of the modular classrooms can be opened by hinges, which again facilitates ventilation and divides the indoor space into semi-outdoor spaces to block sunlight and shade if needed. The school is also equipped with a roof-mounted solar array, which collects enough energy for indoor lighting and serves all other power needs of the school.
Such mobile modular schools will play an important role in improving the conditions of education in the country. And they are planning on spreading such schools to the region.
Kenya Container School Gallery >>