K Type Prefabricated Houses China
Prefabricated Houses China are made of light steel as a steel structure and sandwich panels for walls and roofs. The sandwich panels can be polystyrene, polyurethane, rock wool and fiber glass sandwich panels for insulation. As a standardized construction product, it has below main features: Dry installation, no construction garbage caused; Environment protective materials adopted, repeated use and low cost; Flexible size and easy to assemble and disassemble with elegant appearance; Safe and durable. It is suitable for temporary buildings such as dormitory, canteen, recreation room, washing room, etc.
K-home offers prefab modular buildings in a variety of sizes, allowing you to build anything from prefab houses to portable offices. Our experienced sales representatives will help you choose or design the perfect metal building for your needs, and have it delivered to you in 3 to 6 weeks. Each piece in your prefab metal building is pre-sized and pre-punched for ease of installation. Each metal kit comes with all the accessories you'll need as well as detailed installation information.
K Type Prefab House Features
Product Details
| | |
| --- | --- |
| Name | Prefab K type house |
| Roof & Wall | 50mm EPS/PU/rock wool/glass woll sandwich panel |
| Main frame | C Purlin, Channel Steel, Square Pipe |
| Door | Metal security door/aluminium alloy door/broken bridge aluminum doors/stainless steel door |
| Walkway Board | 1.8mm thick patterned steel plate |
| Time to install | 100 sqm by 4 workers one day |
| Size | Can be customized |
| Fire-protection Rating | B2 |
| Minimum Unit | 3K* 2K*3P (K=1.82m,P=0.95m) |
| Color | Blue, white, red |
| Life span | 12-15 years |
| | | | | |
| --- | --- | --- | --- | --- |
| HEIGHT | 3P=2850mm | 6P=5700mm | 9P=8550mm | |
| WIDTH | 2K=3640mm | 3K=5460mm | 4K=7280mm | 5K=9100mm |
| LENGTH | nK=n x 1820mm | 12K=21840mm | 16K=29120mm | 24K=43680mm |
NOTE: 1K=1820mm 1P=950mm The length of the building can be customized according to your needs.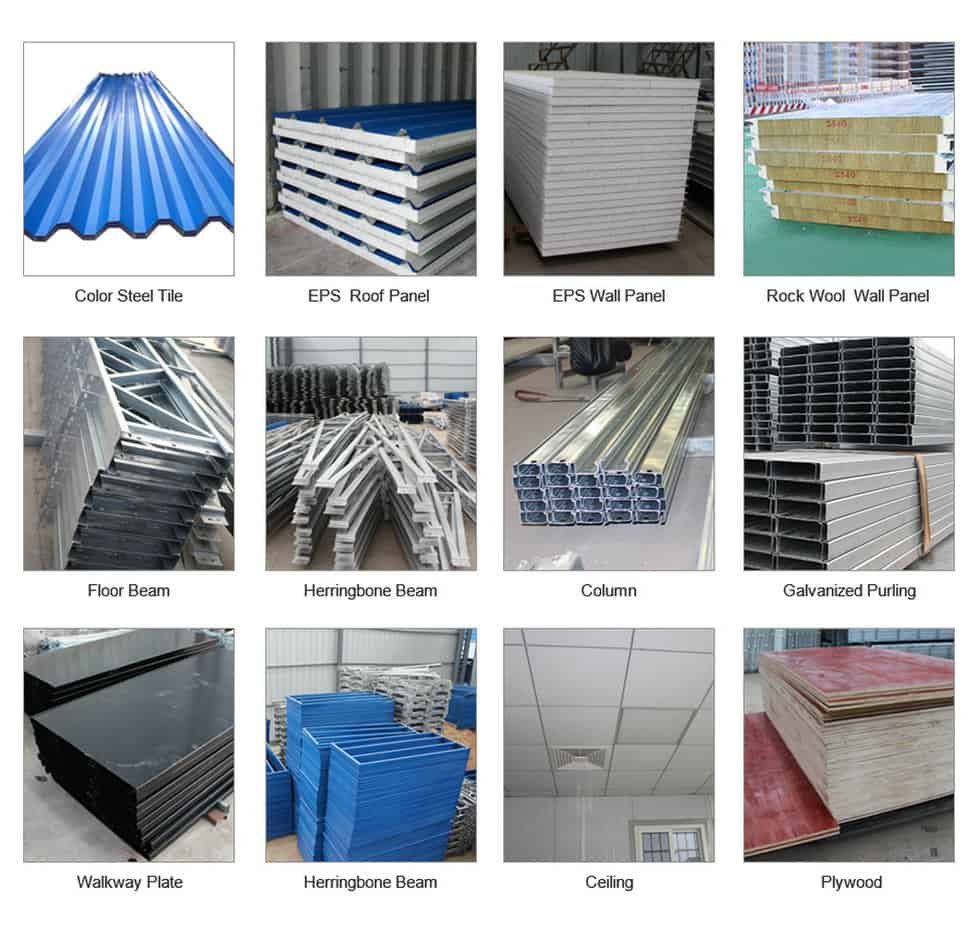 K-Home Prefabricated Houses
Henan K-Home is located in Xinxiang, Henan Province. It's in the central plains of China, which has unique geographical advantages, a beautiful environment, and convenient transportation. We are engaged in engineering budgeting, manufacturing, and installation of PEB steel structures, container houses, prefab houses, sandwich panels, etc. K Type Prefab house is one of our best-selling products, because of its rapid construction, low cost, and pollution-free advantages, it is well received by customers favorite. K-Home strictly controls the quality of products, uses advanced equipment, and continuously optimizes product technology. We supply high-quality products and services to our customers.
With the united efforts of all employees, the markets from all over the world have received rave reviews for our products and services. If you are also interested in our prefabricated house, you can leave online messages for consultation. We are looking forward to cooperating with you! We believe that through our continuous efforts and pursuit, we will be able to achieve mutual benefit and win-win with our customers.
If you have any needs for temporary prefabricated houses, please do not hesitate to contact us
What Is K Type Prefab House
K Type Prefab House is a new concept environmentally friendly economic mobile house. It is also called the slope-top prefabricated house. It is divided into three types: ordinary prefabricated houses, standard prefabricated houses, and high-grade prefabricated houses in the current market. According to the needs of customers, it can be combined with standard modules. The light steel structure is used to form its skeleton system, and sandwich panels and galvanized steel tiles are used to form the maintenance system. The wall rock wool sandwich panel and the roof rock wool sandwich panel are fixed on the light steel frame. The prefab house adopts standard components, and the length and width are both K (1K=1820mm) as the template. This is why we call it K Type Prefab House.
K Type prefabricated houses are widely used and are mostly used for temporary construction houses for field operations such as roads, railways, buildings, etc.; urban municipal, commercial, and other temporary housing, such as temporary offices, meeting rooms, headquarters, dormitories, and stores, school, hospital, parking lot, exhibition hall, maintenance department, gas station, etc.
What Are The Advantages Of Prefabricated Houses China?
Excellent Energy Saving
The wall of the prefabricated house is generally composed of galvanized steel frame, thermal insulation materials, fireproof gypsum board, decorative materials and so on. The galvanized steel frame naturally cuts off the hot air passage during the assembly process, so that the heat transfer inside and outside the wall becomes minimal. In addition, the wall is pre-filled with thermal insulation materials, and metal carved thermal insulation boards are installed on the outside of the wall, which has a better thermal insulation effect.
Low House Cost
The prefab house does not need to be equipped with some expensive furniture and some luxurious decorations. Its construction cost is much lower than other ordinary houses, its construction period is also short, and the required material prices will be lower.
What are the advantages of prefabricated houses? How much is the price per square meter of prefabricated houses?
Good Comfort
Because the prefab house has a thermal insulation effect, the people living in it will be very comfortable. And the material it uses is green and environmentally friendly, and its breathability is also very good, so it will be very comfortable.
Short Construction Period
The prefab house is light in weight, and the steel frame is connected by self-tapping screws and standard parts. Most of the work above the foundation is dry work. The on-site installation is highly adaptable to the climate. Therefore, the prefab house construction speed is fast and the construction period is about the traditional building About one-third of it.
Long Service Life
The steel structure of the movable board house is made of hot-dip galvanized high-strength cold-rolled steel sheet, with a galvanizing amount of more than 180g/m2, and the OSB board is made of Canadian technology. Both can meet the durability requirements of the movable board house.
Why Choose Prefab House?
The K-type mobile house has the characteristics of strong versatility, long service life, and many turnover times. The floor load-bearing capacity is designed according to 150kg/㎡, and the seismic intensity reaches level 7.
1. The structure is waterproof and reliable: the mobile house adopts the structural waterproof design, without any additional waterproof treatment. The flexible steel structure system is safe and reliable and meets the requirements of the building structure design code.
2. Short construction period: Because all main structures of the prefabricated house are connected by bolts, no welding work is required. Greatly shorten the construction time. Moreover, all walls, roof structures, and floors are fixed with self-tapping screws or nails, which is easy to install.
3. Flexible layout: doors and windows can be set at any position, and indoor partitions can be set at any horizontal axis. The stairs are set outdoors.
4. Environmental protection and saving: The house is designed reasonably, can be recycled many times, has a low loss rate, and does not produce construction waste. The average annual use cost is much lower than similar houses built with other materials.
5. Long service life: all steel structures are treated with anti-corrosion spray paint, and the normal service life can reach more than 15 years.
6. Beautiful decoration: The overall house is beautiful and generous, the color is bright, the texture is soft, the board surface is flat, and it has a good decorative effect.
Top Prefabricated Houses Design
The length and width of the prefab house are both modulus K (1K=1.82m), and the number of floors is generally 1-3. Length: Extension combination according to K number; Width: 2K (3.79m), 3K (5.61m), 4K (7.43m), 5K (9.25m); other specifications can be customized separately.
Why Choose K-Home?
K-home promises high-quality after-sales service and regular maintenance
Provide customers with detailed maintenance manuals and methods for regular maintenance of the house
Online 24 hours a day, solving problems in use for customers
Regular return visits and maintenance of customers
1. How is your warranty?
12-month warranty for main steel structure, and sandwich panels. Not include the harsh use environment and human damage.
If there is a problem, we will suggest you solve it on site and we will bear the relevant cost.
If it cannot be solved on-site, we will arrange to deliver the broken parts to you.
Usually, after manufacturing our products, there will be an inspection department to inspect them, and we can provide them to you only after qualified. And during the shipping process, we will buy insurance for the goods.
2. How does maintenance work?
Painting once every 2 years to extend the using life.
In addition, our engineer will give advice based on the climate and weather situation on your site.
Related Product
Related Articles
Frequently Asked Questions