Container City Refugee Housing Solutions In Greece
Product: Container Camp Construction
Manufactured by: K-home
Purpose of Use: Resettlement Camp
Quantity: 160 Units
Size: 20ft
Time: 2019
Location: Greece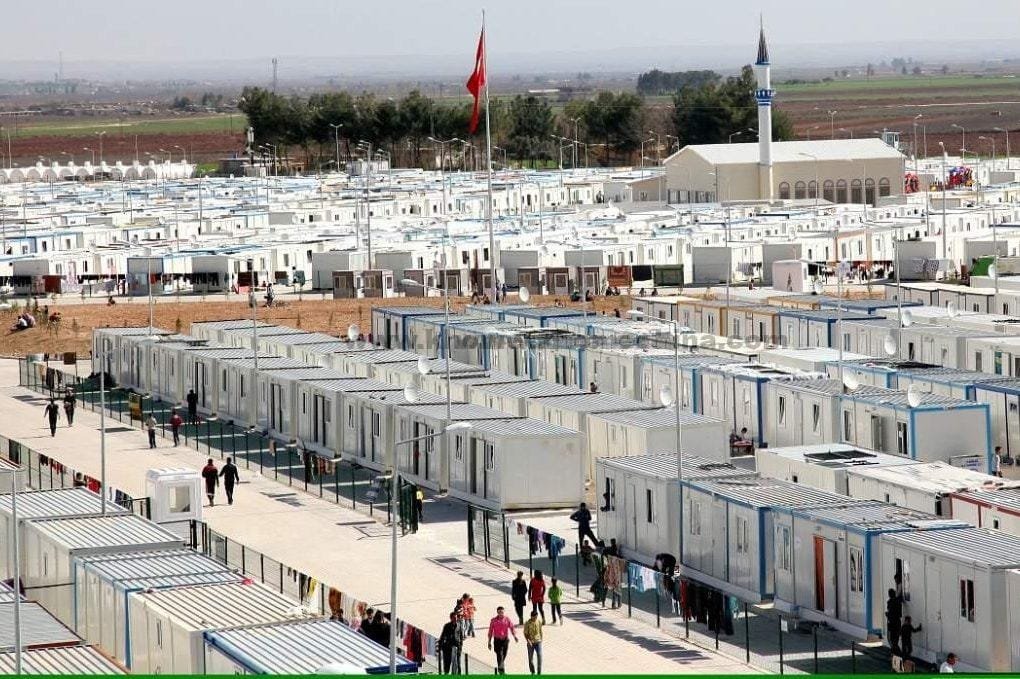 Refugee Housing Solutions
Millions of people are homeless due to war or natural disasters. Container houses are widely used as refugee housing solutions because of their prominent advantages. The steel structure container for refugee camp can provide people with a durable and comfortable environment to live in. This type of house can last for dozens of years, it is easy and fast to be assembled, and its construction cost is not as high as traditional buildings. Once the refugees don't need it any longer, the material of the container houses can also be used for other project buildings.
It was the first refugee housing official temporary accommodation center for asylum-seekers in Greece and is located in an industrial area of Athens. In recent months, authorities evacuate occasionally squatted prefabs where homeless refugees have been residing in order to place new arrivals from the islands. The Resettlement Camp is easy to build, has a strong structure, and has a service life of more than 20 years. With corresponding ancillary facilities, people who work or live in it can get a more comfortable environment. The price of this kind of house is relatively reasonable, and it has incomparable advantages over concrete buildings in terms of construction time and construction environment.
The walls are filled with special thermal insulation materials to keep warm, and the Resettlement Camp units use steel structures as the frame, which is sturdy and durable. The appearance of prefabricated container houses can be diversified and customized to meet aesthetic requirements, and special signs can also be printed on the houses.
K-home Refugee Housing Solutions produces and delivers customized, state-of-the-art container houses and modular buildings, which accommodate homeless people, remote sites, and construction site housing for workers. If you need such a house, please contact us through the contact information on the website, we will reply to you as quickly as possible and provide you with the best offer.
Photo Gallery >>
An Innovative Refugee Housing Solutions
When the government promise to resettle thousands of people refugees over only several months, the first important challenge is to find a quick and comfortable house solution for people. At the same time, the total construction cost should also be kept at a low level while promising the house function is fully equipped.
K-Home container for refugee camp has outstanding advantages in solving this problem from the following aspects.
Durable Structure
Compare to tents, the container-type resettlement camp can provide a more secure living environment for refugees. Under the standard material configuration, the container cabins can withstand an 8-grade earthquake, 11-grade wind and it is fireproof. If there are harsh weather conditions in the project location, we can also upgrade the material so it can meet your needs.
Fully Equipped
The container structure refugee housing solutions can truly resolve the basic life needs of people. Since the prefabricated containers cannot only be used as accommodation but also can be used as a kitchen, recreation room, administrative offices, temporary schools, portable shops, etc. After it is assembled, people can move in it directly. You can also use a TV, water heater, electric heater, wifi, air conditioning, etc. The refugee container village is like a real village, helping people to settle down for the new future.
Fast Construction
The material of containers for refugee camp are produced in our factory in advance, all the components are standard design so it can have volume production in a short time. So it will have a very short delivery time. Moreover, there will be less process work on the construction site. The design is already confirmed before the factory production. Workers can assemble the container house quickly based on our provided installation guidance.
Related Project