Portable Man Camps for Foreign Worker Housing Philippines
Product: Container Van House
Manufactured by: K-home
Purpose of Use: Foreign Worker Housing
Quantity: 22 Units
Size: 3000*5950*2800mm
Time: 2021
Location: Philippines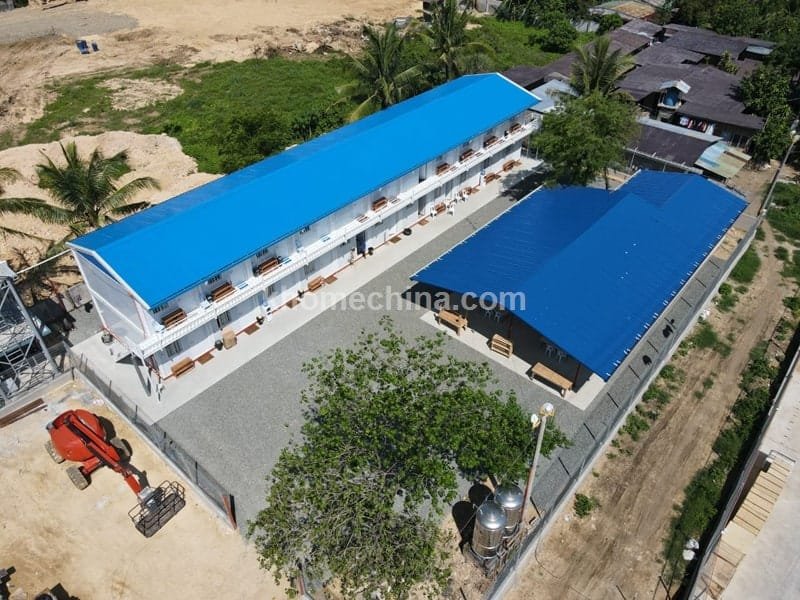 Man Camps Housing
Prefab Modular Building is widely used for container dormitory, Remote workforce housing, Temporary workforce housing, etc. We K-Home provide the modular container camp across the world. The temporary management office, worker house, labor camps, staff canteen, toilet room, all those function rooms can be made from the modular container van. It has a flexible layout, can easily be connected from every side, and stack up into 3 floors maximum.
We K-Home have over 15 years of experience in construction sites, oil fields, and the military field. We can provide worker camp for oil fields, remote workforce man camp housing. It can be recycled use many times and used for at least 15 years or more, very suitable for the company which needs to change site location frequently or every few years.
Portable Man Camps
We have many projects about Portable Man Camps in the Philippines, this is a project located in Cebu.
This is a two-story building for foreign workers, which is made of 22 sets of our container houses.
On each floor, there are 9 rooms for living, 1 public toilet, and 1 public shower.
As the Philippines has a lot of rain, we recommend that the customer could consider installing a second roof structure, to better protect the house from rain.
It only took one month from production to receipt by the customer.
We provided detailed installation instructions according to the house floor plan.
Then the customer completed the installation in a short period of time, and sent us some photos to show that they like the house very much!
If you are looking for similar houses, don't hesitate to contact us, we will be very pleased to provide you with a turnkey solution from design, production, delivery, and installation guide.
Photo Gallery >>
Modular Workforce Housing
The modular house is a very simple system that can be connected easily by handheld tools. All the items are produced inside the factory, most of the items are made from steel, the producing process is strictly controlled by the QC team, to make sure all parts are correct to use for you.
When you assemble the house, it's like putting all LEGO parts together, not only can connect together easily, disassembling is also very easy.
And the house has windows, doors, lights, sockets, switches, wires, etc, that all you need to start to use as a normal house.
Even the decorating skirting line, floor leather is also included. The ceiling of the roof is a galvanized colored steel plate with a striped pattern. It will be very easy for you, save you a lot of time at local to get the corresponding items.
The window is very safe, it with mosquito screen, and a security rod, so you can make sure your safety at night or when you go outside. It with locks in it, so you can lock the window as wished.
The ceiling with big size, for this standard unit, need 6pcs is enough, so save you a lot of time on assembling.
About the installation time, usually, 3 skilled workers could complete 2 units in 1 day, which means 36square meters.
The life span is normally over 15 years, but actually, the life span can be extended more based on your local weather and maintenance situation.
Portable Building& Modular Man Camp Buildings
The construction sites are more suitable to choose modular man camp. Modular buildings are needed in these areas. Modular man camp buildings are portable. For this reason, they can change the site location easily. And it can take away with the site change at local.
The container house is an all screw-connected structure, all the frames using galvanized steel square tubes and the enclosure is a sandwich panel.
The sandwich panel system is a very easy maintenance material. And we choose A1-grade fireproof rock wool as the insulation, which could make sure safety at the site. If it is broken when you use it, just remove it and change a new wall panel on this place, it is a very low-cost maintenance way.
Our container house can be used for different functions, such as portable WC, shower room, dining halls, worker dormitories, management offices, meeting rooms, recreation room, whatever you need, and it can meet your inquiry.
Besides these, now is very popular to use as an emergency hospital, guardhouse, education school building, laundry room, which all can be made by modular container house.
The fast assemble portable house has very low foundation request about local land situation, no matter you want to place it in the desert, grass, or at the foot of the mountain, near the lake, it all could be. It no needs a deep foundation under the ground, just on the surface of the floor, you can put a square pillar under each pillar, or a long foundation under the beam only.
Related Project
Recent Blogs