Container House in India, Best Construction Site Housing Solutions
Container House in India introduces advanced modern home design concepts. It is a prefabricated house refined with steel plates, sandwich panels, bolts, aluminum accessories, and other materials through a standard process. It has ready-to-use, mobile, and Recycling, recycling, safe, environmentally friendly, beautiful, economical, fast and efficient, etc.
The portable container house in India is based on the light steel structure as the skeleton diagram. The color steel sandwich panel is used as the raw material for the enclosure structure, and the standard modulus series products are used to develop the indoor space composition. This is a newly upgraded definition of environmental protection mobile house.
Today, we will introduce the five best container house manufacturers in India and the market prices of container houses in India, so that you can find reasonably priced and durable Indian container houses according to your budget. So please keep reading below!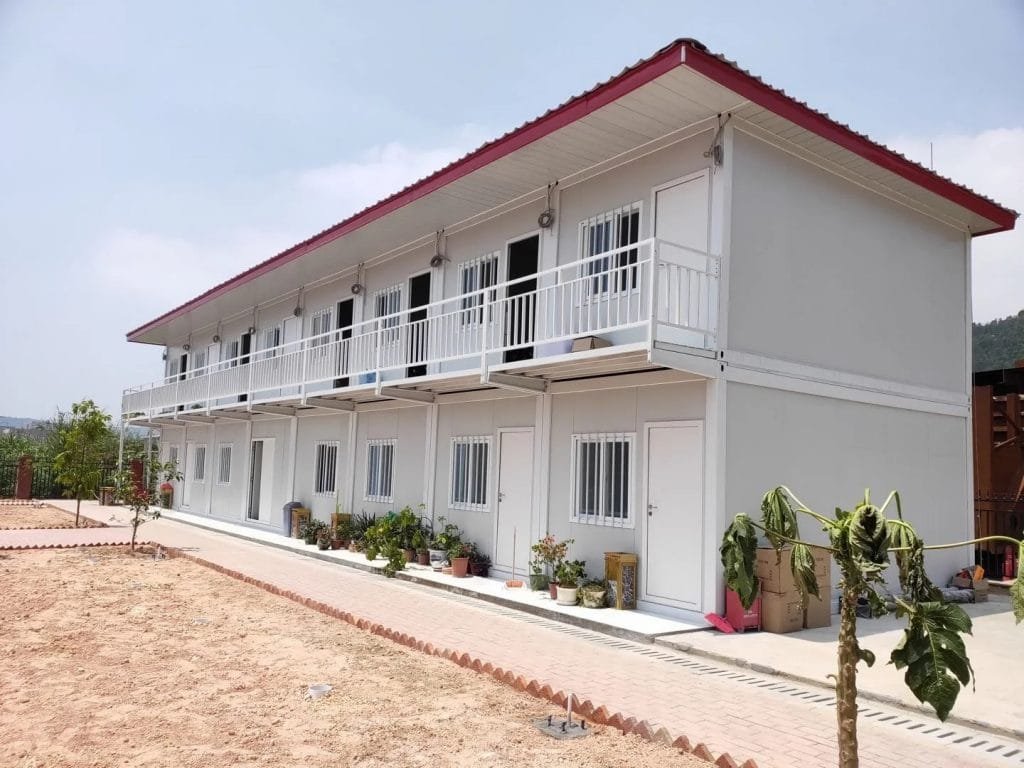 Top 5 Container House Manufacturers In india
1. E-Pack Prefab (www.epackpolymers.com)
E- Pack Polymers Private Limited, established in the year 1999, as a manufacturer of Prefabricated Structures, Products, and Building components. E-Pack is a part of the East India group having a wide product portfolio and a group turnover of over 650 Crores. East India Group established in 1989 started with manufacturing. E-Pack is one of the leading providers of turnkey solutions for innovative and efficient building materials and packaging solutions. Organization principal activity comprises of Insulated.
Main Products
Bunkhouse
Container Hotel
Container Café
Container Homes
Guard Cabin
Industrial Shed Manufacturer
Kitchen Container
Portable Buildings
Portable Cabin
Portable Toilet
Prefabricated Farmhouse
Prefabricated Structures
Prefabricated Office
Shipping Container House
Shipping Container Office
Security Cabin
2. SAMAN POS (www.samanportable.com)
SAMAN POS India Pvt Ltd is a leading supplier of Prefabricated Structures in India and overseas. They deal with more than 30+ prefab products such as Mobile Homes, Mobile Toilets, Porta cabins, Portable Offices, Prefab Hotels, Container kitchens, and many more. All their products come from prestigious manufacturers across India and pass through multiple inspection processes.
SAMAN POS India Pvt Ltd is one of the leading manufacturers and suppliers of multi-purpose portable buildings. Since its inception, They have been at the forefront to provide their clients with innovative, intelligent, space-saving, durable, and long-lasting portable solutions. Based in Bengaluru, Karnataka, India, they deliver high-quality prefabricated portable buildings at excellent prices to all destinations in India and overseas. Their product offerings span the comprehensive benefits of innovative designs, spacious interiors, ease of installation, corrosion resistance, remarkable durability, and cost-efficiency.
Main Products
Prefabricated Structures
Pre Engineered Buildings (Peb)
Porta Cabins
Prefabricated Site Office
Prefabricated Accomodation
Clean Room
Ripening Chamber
Cold Storage
Railway Shelters
Control Room
Acoustic Enclosure
Prefabricated Toilet
Sandwich Panels
Prefabricated Shelter
Prefab Cottage
Security Cabin
3. K-HOME Steel Structure (www.khomechina.com)
Henan K-home Steel Structure Co., Ltd is a high-quality container house supplier in China. They are located in Xinxiang, Henan, the birthplace of China's container housing. Relying on the Asian transportation hub and being close to Qingdao Port, has resulted in convenient transportation and lower transportation costs.

Due to decades of rich experience in overseas prefabricated house construction as well as the accumulation of different national policies, laws, customs, culture, and climate which impact the project carrying out smoothly, K-home has been leading Chinese overseas container house construction and become a preferred provider for India Construction Enterprises.
Main Products
Container Office Building
Container Accommodation
Modular School Buildings
Construction Site Camp
Portable Ablution Block
Prefabricated Hospital
Porta Cabin
Light Steel Prefab Homes
Cheap Prefabricated K Houses
Pre Engineered Building
Industrial Steel Buildings
Agricultural Steel Buildings
4. Ascent Porta Solutions (www.asprefab.com)
Founded in the year 2016, Ascent Porta Solutions is one of the leading Portable cabins manufacturer companies in Maharashtra, India. They are the distinguished suppliers, traders, and manufacturers of different types of portable cabins and structures across Maharashtra such as Mumbai, Pune, Nashik, Navi Mumbai, etc.
Ascent Porta Solutions gives a comprehensive assortment of prefabricated structures including Holidays Home, Security Cabin, Accommodation Cabin, Portale Office, portable toilets, portable cabin, etc. Any order provided for any portable structure will be designed as per the user's requirements.
Main Products
Porta Cabin
Portable Office Cabin
accommodation cabin
Portable Cabins
Prefabricated Structures
security cabin
container house
container office
Toll Booths
Portable Toilet
Portable Homes & Buildings
Holiday Homes
Portable Kitchen
Bunk House
Old Containers
Used Shipping Container
5. Techno-cap Equipments (www.technocap.in)
Techno-cap Equipments India Pvt. Ltd is the name of their business that has incepted in the year 2009. Their business is highly involved in manufacturing high-quality range of Containers. Their range meets the diverse application needs of our client and offers excellent performance in its usage. These are available in various sizes and designs that meet the individual requirement of different industries. They produce our products with superior quality materials that are tested for their durability and reliability.
Main Products
Office Container
Container Swimming Pools
Restaurant Container
Portable Labour camp container
Tiny House
Container Homes
Container Shops
Cargo Container
Portable Toilets Containers
Shipping Containers
Resort Container
Farm House Container
Container House Price India
According to the price of India MART, the price of ready-made container houses depends on the usage, quantity, supporting facilities, and type of container houses. The standard container house Price in India is about ₹850/ SFT ~ ₹2,500/ SFT.
Container House Design In India
Most of these prefabricated containers are used for temporary housing or offices at construction sites. It is also possible to design different interior layouts and appearances according to the needs of the buyer. As shown drawings below:
Advantages of Container House Manufacturers in India Market
Before you buy a container house from India, you need to consider various factors, including quality, service, price, communication, ocean freight, customs duties, and customs procedures. But you don't have to worry about these issues, India is one of the best container supply markets.
The following are the advantages of finding a container house manufacturer in India.
1. Easily Find Container House Suppliers in India.
You can easily find low-cost Indian container houses for sale at IndiaMart and GlobalSources.
2. Simple Ordering Process.
The payment process is simple, and there is a bank credit guarantee.
3. Transportation Advantages.
India has superior shipping geographical conditions and has many ports for international trade.
4. Lower Cost of Container House.
India's mass production and cheap labor make the manufacturing cost of containers lower.
5. Low Export Taxes and Duties.
India has a friendly export trade policy, low export taxes and tariffs.
6. Favorable Exchange Rate.
One US dollar is equivalent to 74.95 rupees, so you can buy a large number of container houses in India with only a small amount of US dollars.
Conclusion
India's superior geographical and economic conditions are their greatest trade advantage. We hope you can find the ideal container house supplier through this article. In addition, if you don't know how to plan and design your container house project, please read How To Make a Container House Plans this article.
Recent Blogs