Portable classrooms are made of 20ft container houses. The Cost of Portable Classrooms one unit is USD2200~USD2500, the detailed portable classrooms cost depends on the drawing and order quantity. But compared to the traditional concrete building, the price is much lower. And there's no need to redecorate it after installation, just put it into use directly.
What is Portable Classroom?
Portable classrooms, also known as modular classrooms or relocatable classrooms are a type of portable construction that is temporarily installed in schools and quickly provides additional classroom space in a shortage of capacity. Or in some developing countries, it is very expensive to build a permanent school, and the construction time is very long, which cannot meet the requirements of the school to be put into use quickly.
Why Modular Classrooms?
Installation: It is connected by bolts, The installation is very fast, normally 3 workers can assemble 2 units in a day.
Foundation: The portable classrooms do not have high requirements on the foundation, as long as the house is on the same level. This can save a lot of cement foundation costs.
Modular Construction: Each type of component is the same or similar, and the parts can be directly assembled on-site without secondary processing.
Construction Cost: This not only speeds up the production speed but also shortens the installation time. So whether it is from the delivery time or the installation cost, it is a very good choice.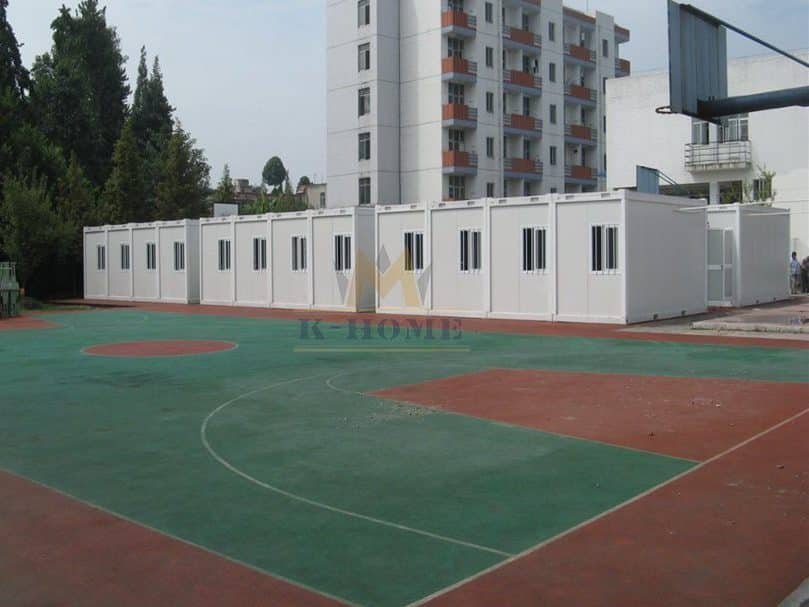 What Is The Standard Size of A Portable Classroom?
There is no fixed size for each classroom, it depends on your land area and students quantity. If you want to add the second level in the future, it's no problem. Our container house can be stacked at most 3 floors. And you can combine the houses at any time.
You can combine more container houses to form a large space to accommodate students, so no matter how many students you arrange in a classroom, we can customize it for you.
Normally, one container house(3000*5950mm) can accommodate about 10 students.
How Long Do Portable Classrooms Last?
The service life of portable classrooms is 15-20 years, if you do maintenance regularly, it can be longer. The actual lifespan will be determined by your using environment. Of course, there are also better quality materials, which can extend your school service life, but the price will be a little higher than standard materials.
Why K-home Portable Classroom?
Henan K-home Steel Structure Co., Ltd is a high-quality container house supplier in China. We are located in Xinxiang, Henan, the birthplace of China's container housing. Relying on the Asian transportation hub and being close to Qingdao Port, has resulted in convenient transportation and lower transportation costs. We have a complete industrial chain, and container houses in Xinxiang account for more than 70% of China's market share.
Due to decades of rich experience in overseas prefabricated house construction as well as the accumulation of different national policies, laws, customs, culture, and climate which impact the project carrying out smoothly, K-home has been leading Chinese overseas prefabricated house construction and has become a preferred provider for the well-known large-scale Chinese Construction Enterprises.
Besides the modular-built portable classrooms buildings, we can also supply and design other function areas for you, like: teacher's office, conference room, prefabricated public restrooms, storage, kitchen and dining hall, etc.
If you need, for the furniture facilities and sanitary system, we will help you purchase from the raw material factory so that you can get the lowest price.
For furniture, we won't earn your money. Because building a school, it is a very meaningful thing.
We are very pleased to provide support for you. If possible, we are also willing to donate some school bags, stationery, etc. to the students.
Container School Project in Kenya
The following project is portable school classrooms we completed in Kenya.
According to the customer's requirements, each classroom accommodates 30 students, so we combined 3 sets of container houses into a classroom.
Conclusion
Shorter construction time and Lower cost are the biggest advantages of portable classrooms, so if you are looking for similar products, contact us, we will provide you a reliable and suitable solution according to your actual needs, including free design, fast production, on-time delivery, and installation guide.