Popular Container House in Malaysia
Container house Malaysia is a modular structural design, which is the best idea for construction site housing. From family homes to large camp housing, we have different design styles and combinations to meet all your needs. K-home supplies Container House with durability and low cost as the main features, so more and more construction contractors in Malaysia choose to use portable containers for site housing and project offices.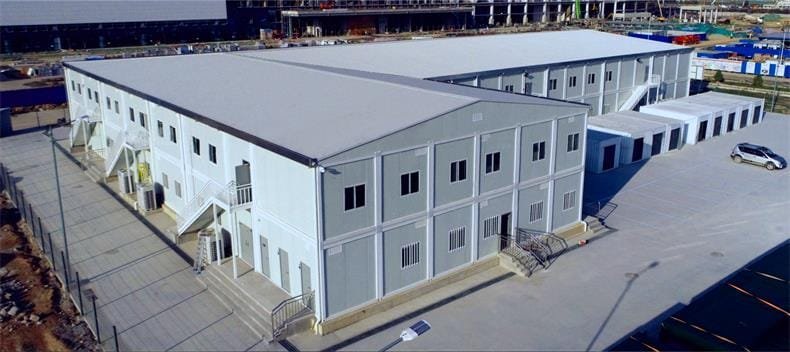 Container House Introduction
The detachable container house is a safe and comfortable temporary housing that is processed and assembled from sandwich panels, steel, and other raw materials and is an improved product of shipping containers. With the increasing development of society and economy, containers are gradually being widely used worldwide. In order to respond to different customer scenarios and customer needs, container houses have derived a variety of improved products. It is mainly used in various application scenarios such as construction site worker accommodation, enterprise project departments, mobile hotels, resettlement houses, prefabricated schools, large and small guard boxes, and toilets.
Container House Advantages
Convenient transportation and short construction time;
Rugged and durable, all made of steel, with seismic and anti-deformation capabilities;
Third, the sealing performance is good, and the strict manufacturing process makes this kind of mobile room have good water tightness;
Fourth, the mobile house is based on a standard steel chassis, which can derive a lot of combined space. Such as meeting rooms, dormitories, kitchens, bathrooms, etc. The standard width is 2.4 meters, the height is 2.2 meters, and the length is 4 to 12 meters.
Convenient disassembly and assembly, good performance, stable and firm, good anti-typhoon, anti-vibration performance, fire-proof and anti-corrosion, and light weight. The house is a monolithic structure with a frame inside, and the walls are made of steel plates, which can be veneered by wood panels, which can be moved as a whole and have a service life of more than 20 years.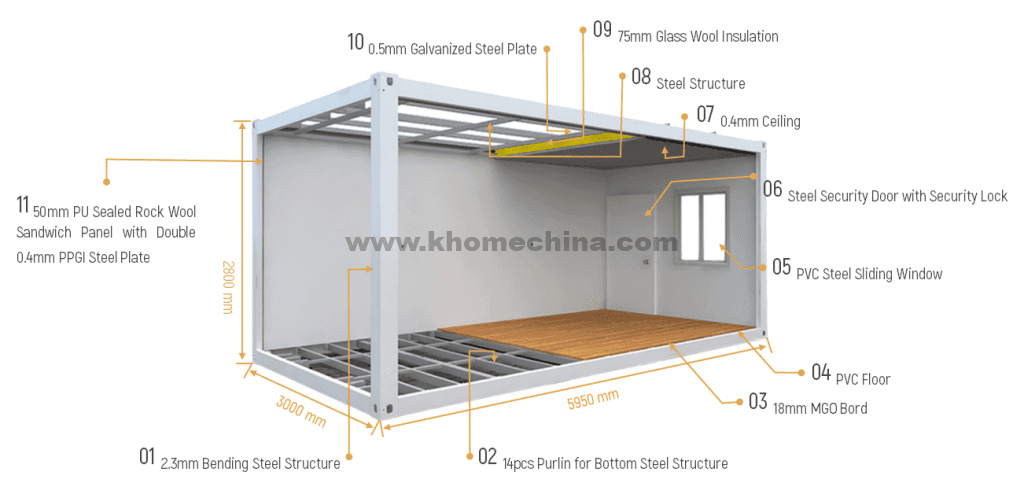 Top Container House Manufacturer in Malaysia Market
In terms of technological innovation, K-HOME took the lead in developing the third generation of fast LCL. The technological innovation of our own uniquely designed steel frame, corner head, and roofing system makes our products unique in the same industry. It combines the advantages of multiple products in the industry and is extremely cost-effective. It has won the trust and feedback of many customers. Our products have been exported to dozens of countries and regions, and we have established long-term cooperation with customers. Developed a lot of capable agents in Shanghai and overseas installation teams.
Our Vission & Mission
Use technological innovation to promote Building Development.
Use the modular fast-installed houses to helping low-income people live happily.
To be the world-leading supplier of steel prefab portable houses.
Competitive Container House Price
What is the most important and inevitable factor in overseas competition? Yes, it is the price!
The prices on the market are mainly 1500 US dollars, 2000 US dollars, 2500 US dollars, 3000 US dollars, and 4000 US dollars. And our price is between 2000~2100 US dollars. This price is very competitive. And most of the products on the market below $2,000 have a lot of design flaws, and there is no way to compare with our third-generation fast LCL. Our most advanced and high-end designs are matched with low- and mid-range prices, which is very cost-effective for customers.
Recent Blogs