Prefabricated Flat Pack Container House
Prefabricated container house is a sustainable building solution for expanding site camp, designed to be energy-efficient and flexible working spaces. The 20ft (6m) container house is the base model self-contained unit. We can fabricate a lot of units within 10 days and transport to your construction site. We can also come with a built-in kitchen, laundry, bathroom, and custom fold-down bed/lounge- All fittings meet your needs. Minimal onsite work costs mean you can move in the container buildings instantly without the disruptions of conventional building construction.
Flat Pack Container House China Manufacturer
K-home is a high-quality flat pack container house manufacturer, preferred in construction site buildings. Fast production, fast service, and response to the needs of large-scale engineering construction housing in a short time are very important. In order to meet this demand, k-home modular container houses are favored in the construction industry because they have short production time, short installation time, low cost, and can be put into use immediately.
K-home has executed many modular container building projects especially in Africa, Southeast Asia, and Europe. We produced flat pack container houses with high insulation and modular transportable structure.
Contact us, inquire about our container house's models and economic prices.
Flat Pack Container House Features
Product Details
What is Prefabricated Flat Pack Container House?
The Prefabricated Container House evolved from shipping containers, using the "factory prefabrication and on-site installation" model. After the structural construction and interior decoration of each module are completed in the factory assembly line, they are transported to the project site and quickly assembled into a container house building, reducing the house construction time by more than 60% compared with traditional buildings.
How To Install a Flat Pack Container House ?
For non-professionals, building a container house is not easy. In order to let you know more details, we have made the installation video of the standard container unit.
If you still don't understand this installation procedure, please contact us directly and we will provide you with more professional installation instructions.
| Structures | Parameter |
| --- | --- |
| Roof System | |
| Steel frame | The steel frame is Q235 galvanized fitting; |
| Roof insulation | The ceiling is blue color steel pre-coated 0.4mm outside strong steel sheet; |
| | With 50mm glass wool insulation material; |
| Roof ceiling | The ceiling is shaped steel plate with different pattern |
| Floor System | |
| Steel frame | 3mm Galvanized Steel for main structure + 1.5mm square tube for the secondary beam |
| Floor | 15mm chipboard + PVC leather floor |
| Column System | |
| Column | 2.5mm Shaped Galvanized Steel |
| Wall System | |
| Wall Panel | Material: Rock Wool/PU/PIR Sandwich Panel |
| | Thickness:50mm/75mm/100mm |
| | The outside color is light silver-gray (0.35mm thickness steel ); |
| | Inside is white color steel (0.35mm thickness steel ). |
| Door & Window System | |
| One Door | Material: Steel door |
| | Size:2000*980mm(H*W) |
| Two Windows | Material: Aluminum alloy steel double hollow glass sliding window (including screens) |
| | Size:1200*1000mm(H*W) |
| Electric System | Includes: one ordinary LED light, A-SW double sockets 2set, A-SW air-switch 2 set, |
| | Electrical box with safety protection device connecting cable for connecting; |
| Accessories | Electric wire; Sealant; Wiring tube; Screws and other accessories. |
Best Solutions For Construction Site Housing
K-home is a global supplier of flat pack container houses. our container houses are composed of detachable prefabricated kits, eco-friendly, affordable, customized service is the best solution for construction site housing. Whether you're looking for a commercial space or a construction site office, prefab school, or engineering camp housing, we can help bring your idea to reality. From planning, design, and material sourcing to building, delivery, and installation, we know that even the smallest details can have a great impact.
As a leading container house manufacturer in China, K-home has been adopting green design concepts and the mission of "making temporary buildings safer and more comfortable", innovative and unique high-tech, and vigorously developing energy-saving, Prefabricated integrated houses with environmental protection and other characteristics. K-home has achieved standardized production, equipped with a complete supply chain management system and professional logistics, installation services, and after-sales service systems to provide global customers with a full range of temporary housing solutions.
Contact our sales team and get a free quote!
What is Flat Pack Container House?
The flat pack container house is generally used in all areas of society. They are not only used for short-term and long-term construction sites and on-site office space, but also increasingly used as long-term apartment rooms, commercial rooms, restaurant rooms, and shop rooms. Its environmental protection and energy-saving advantages, ease of assembly, sensitivity, safety, comfort and practicality, and low-cost benefits are more and more popular and liked by people.
Why K-home Flat Pack Container House?
The container house is our newest type of design since 2019. We have updated many items to make the structure more safe and reasonable. As following is our advantage:
1. More Sturdy and Durable
Both our bottom and roof purlin quantity are increased. Other suppliers are 10pcs and ours are 14pcs for the bottom. The mainframe of the product is pressed by a special steel plate and has 4 pcs 160x160x2480mm column, which is sturdy and durable and has strong earthquake resistance and deformation resistance.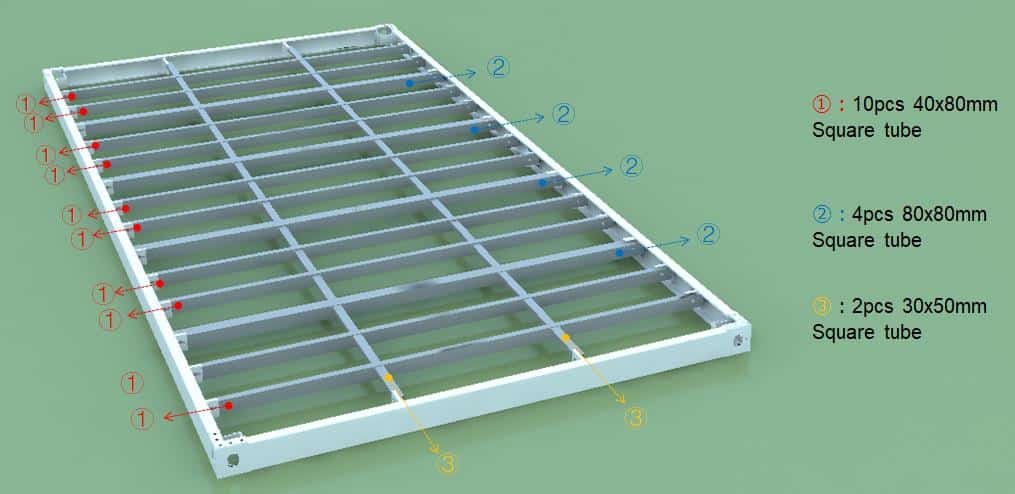 2. Complete Drainage System
We modified the water drain system, each column is designed and equipped with 4 water drain pipes. and we design big water drain channel for the roof structure, even for big rain, the house will be very water-proof.
The drainage system of the modular container house is composed of four water channels and downpipes. When it rains, the rainwater on the roof will be collected into the water channel and then flow down through the downpipe of the corner posts to provide an orderly drainage system to achieve better drainage and Easier rainwater collection.
3. Stable And Firm
The flat pack container house could be stacked for 3 floors. Our column and roof, and corner joints are stronger, You could move the house very safely and quickly.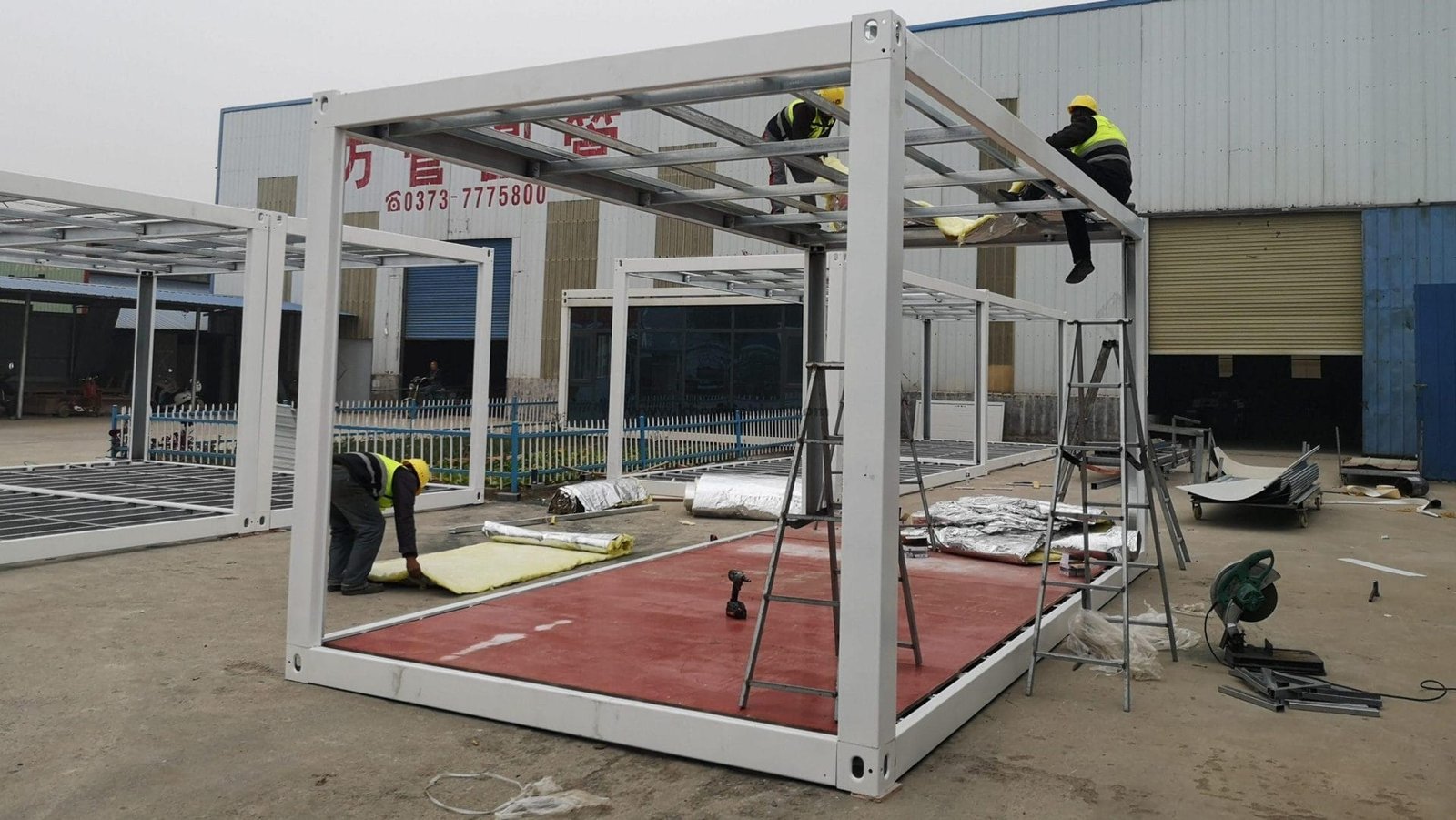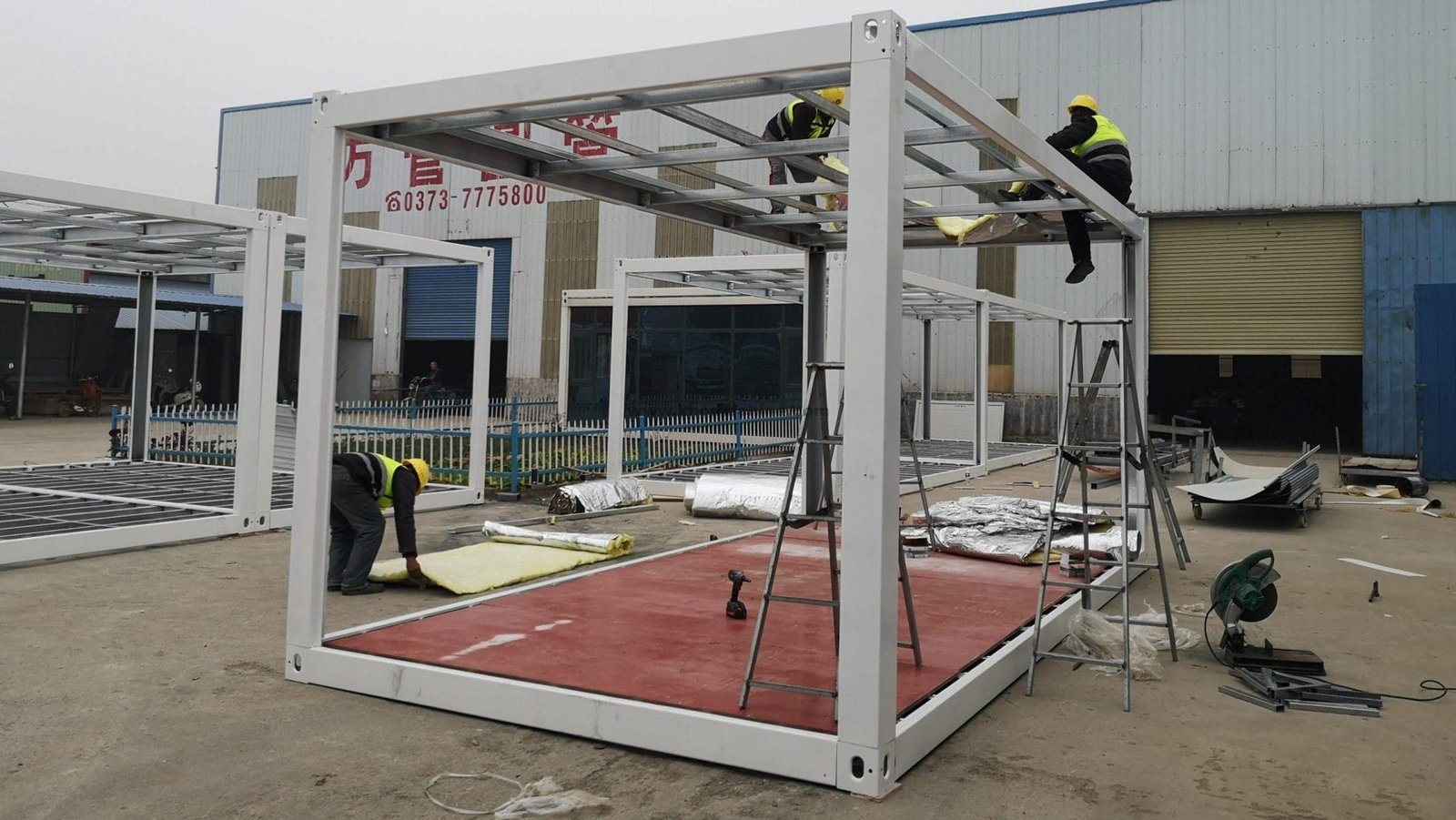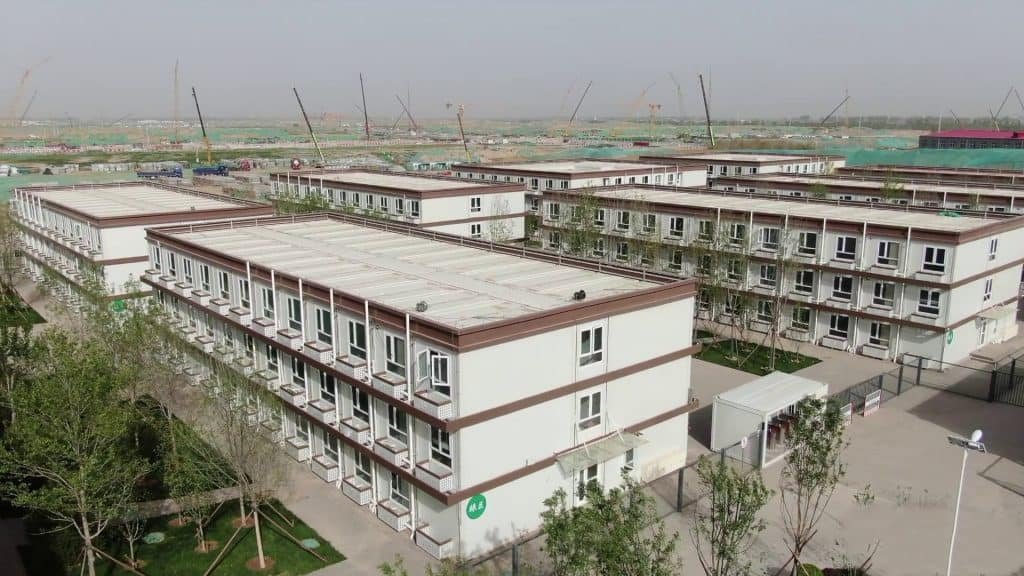 4. Fireproof And Soundproof
Thickened Rockwool Wall Sandwich Panel is Class A fireproof, and the side panels have special sound insulation and heat insulation fillers, which can play the role of heat insulation, sound insulation, cold protection, and fire prevention. Can be moved multiple times, reused, hoisted as a whole, the service life is more than 20 years.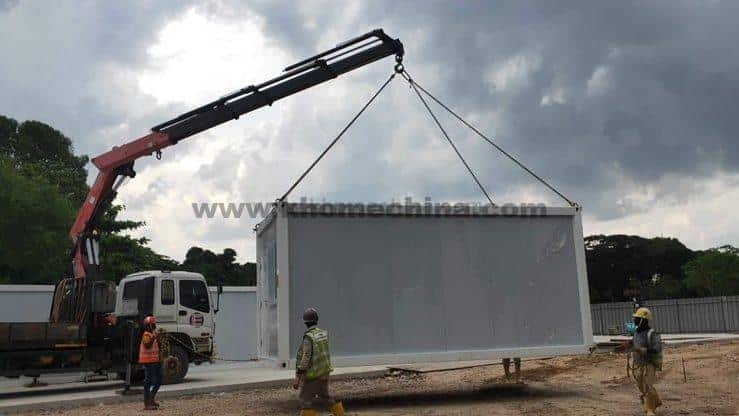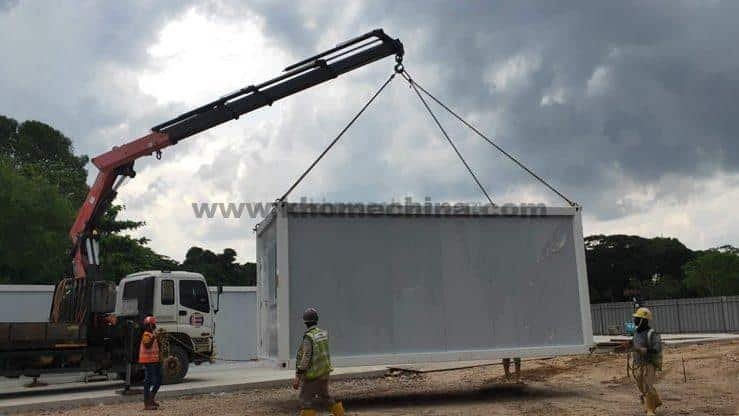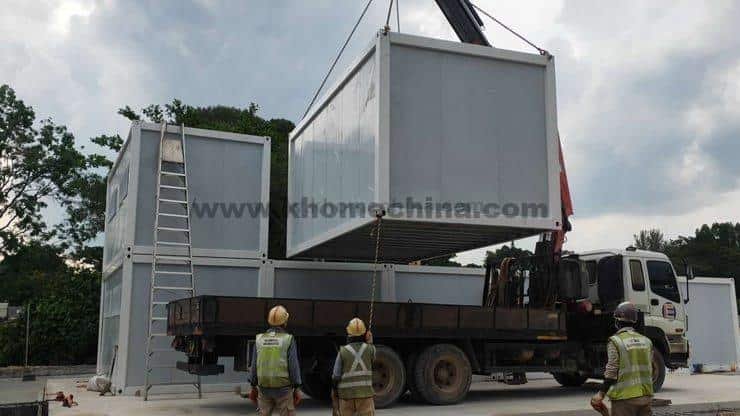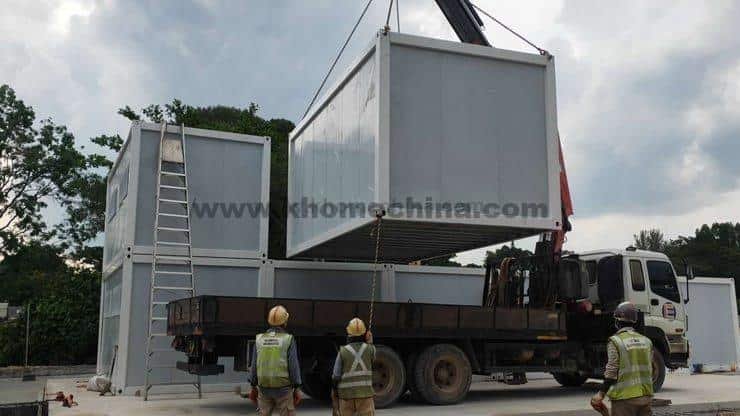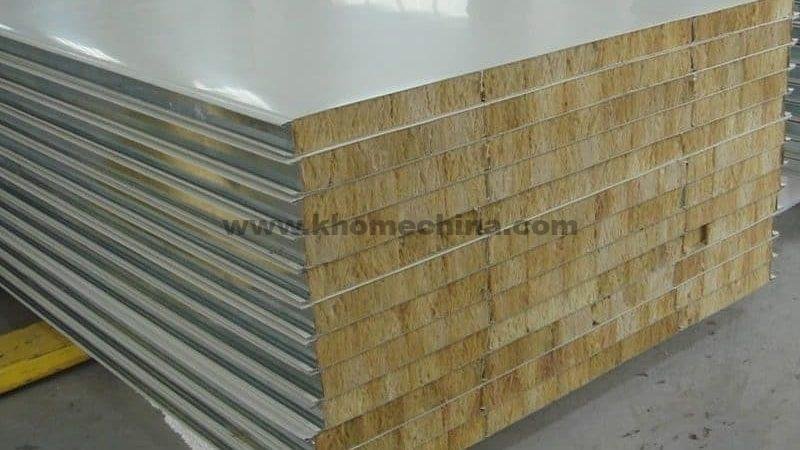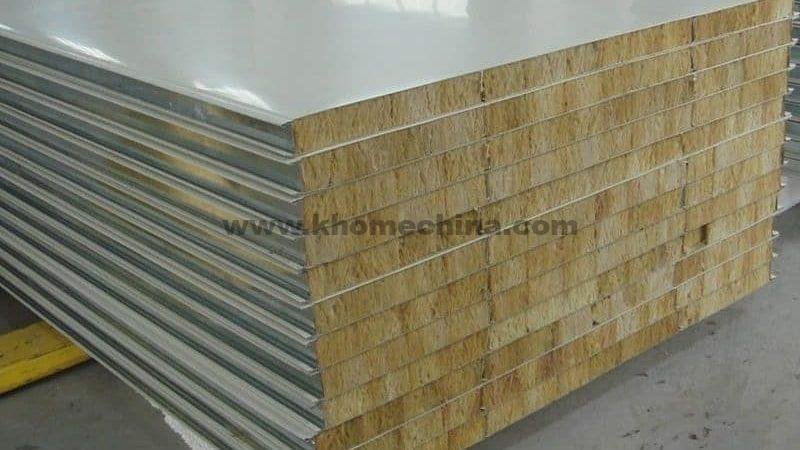 What You Should Know Before Buy Flat Pack Container House?
• Research the building regulations in your area: different cities may have different rules and regulations for the construction of container houses. Before starting to build a house, make sure that you are familiar with the issues related to approval and are ready to consult with relevant departments such as the local planning bureau. Of course, the current container construction projects we have completed have been recognized in most countries in Africa and Southeast Asia.
• Drawing/plans: Before buying a container van house, make sure you have prepared or designed the layout. If not, please send us your requirements for size and layout. K-home has professional engineers who can provide you with a complete construction plan.
• Geographical environment/climate characteristics: roof design, floorboard material selection, drainage pipe design, etc., We need to choose more suitable materials and designs according to your geographic environment and climate characteristics.
Purchase all containers from the reliable manufacturer  
There may be slight differences in the quality and size of containers from different manufacturers. Therefore, it is very necessary to choose a manufacturer that suits your needs and purchase them in a unified manner.
• Find the right contractor  
Choosing the right contractor can avoid detours, reduce construction time, ensure a smooth construction process, and solve many possible problems.
• Transportation: Before any transaction, confirm the transportation cost and delivery period.
Related Projects
Related Articles