Container Houses In Kenya
"Building a house like building blocks", this green and efficient prefabricated construction method are not new in many developed countries. But in Kenya, an East African country known for its great migration of animals, K-home container houses will help the country gradually promote the industrialization of prefabricated buildings.

The container houses in Kenya are mainly used to solve the problem of the construction contractor's office and workers' accommodation at the construction site. Especially for construction workers, compared to the noisy and harsh temporary accommodation environment, comfortable container dormitories will help them greatly improve their work efficiency.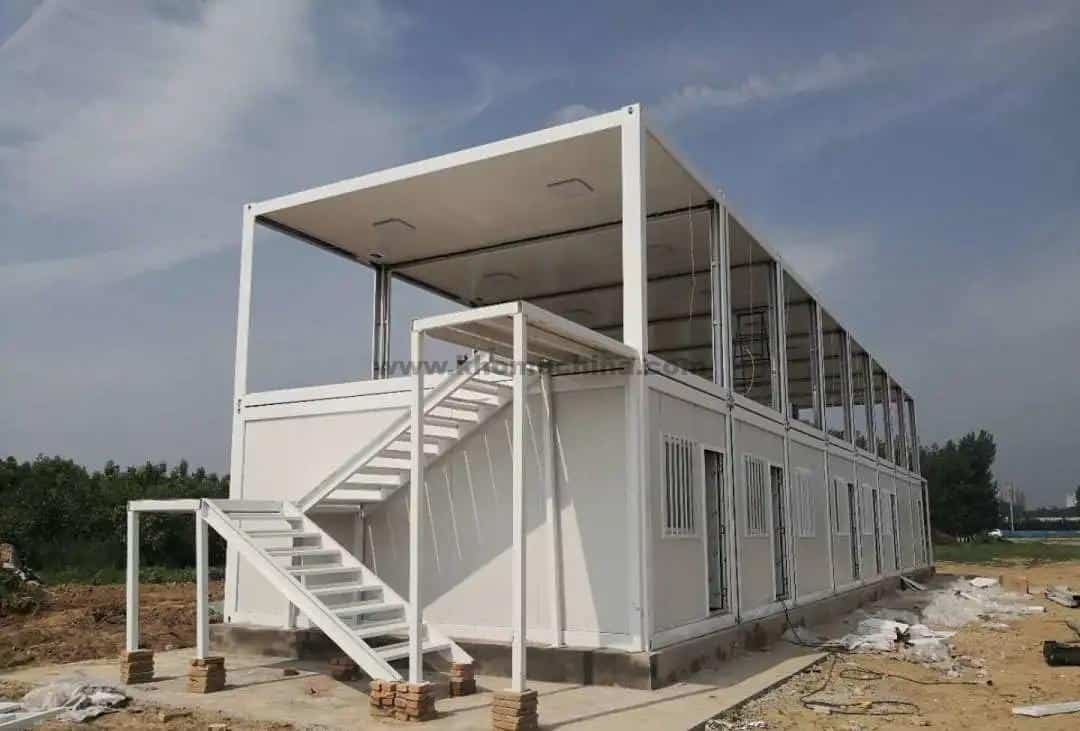 Container House in Kenya Pictures
Background: One Belt and One Road, Strong Support
As the only fulcrum of the "Belt and Road" strategy in Africa, Kenya is one of the countries that has received the most investment from China. The Mombasa-Nairobi Standard Gauge Railway (Mombasa-Nairobi Railway), which was officially opened to traffic in May last year, adopts the "China National Railway Grade One Standard". It has a total length of about 480 kilometers and a designed capacity of 25 million tons. Port of Barca. According to the long-term plan, the railway will connect Uganda, Rwanda, Burundi, South Sudan, and other East African countries, with a planned total length of 2,700 kilometers and an estimated total cost of 25 billion U.S. dollars. It will become a "main railway artery" in East Africa.
Prefabricated Construction Market Analysis
The Kenyan government vigorously promotes infrastructure plans and expects to join the ranks of newly industrialized and middle-income countries by 2030. Kenya's investment in the restoration and reconstruction of roads, bridges, and urban transport infrastructure projects has shown a rapid upward trend. Infrastructure facilities also include houses and buildings. The housing gap in Kenya is as high as 1.8 million units. Kenyan hopes to build more houses through cooperation with Chinese companies to effectively solve the housing problem of the Kenyan people. In the past few years, Kenyan housing has increased by 12%, while prefabricated buildings have increased by 6% at the same time. In addition, the annual urban population growth rate of 4.4%, coupled with the increasing rural population migrating to cities, opportunities for prefabricated buildings exist in the residential, commercial, and industrial sectors, which also increase the demand for container houses on construction sites.
Container Houses in Kenya
Container houses in Kenya mainly adopt the systematic design, modular splitting, factory manufacturing, and on-site assembly to build houses. As much as possible, they are processed in factories and assembled on-site to design industrial buildings. "It is like manufacturing cars on an assembly line. It is the same to "produce" house components, and build a house on-site like "building blocks"."
Unlike the dusty and loud noises on the construction site in the past, you will see the construction site in order, clean and tidy. The use of container houses and prefabricated construction operations can reduce the process of mud, plastering, and wall masonry at the construction site, save a lot of investment in wooden molds, and avoid the generation of a large amount of construction waste. This is a green, low-carbon, and efficient New construction method.
The local official in Kenya said that Chinese companies are now diversifying their investments in Kenya. In addition to building railways and highways, they also invest in housing construction. "What excites me is that K-home has introduced China's advanced PEB building technology into Kenya, helping Kenya's industrialization to achieve transformation and upgrading."
Local worker Benson Kimeu told reporters that since living in a dormitory built of container houses, his life on the construction site has become better and better. "On the one hand, his income has increased and he can better support his family financially. In addition, he can continue to learn Chinese prefabricated construction technology to improve his professional skills."
The industrialization of construction is a major trend in the current global construction industry. K-home is committed to producing high-quality, low-cost, green, and environmentally-friendly prefabricated houses for local people, and actively provides technical training to local workers to improve the construction quality and construction technology level of Kenya.
Container House Advantages
The installation process of the container house does not produce construction waste, which is more environmentally friendly and will not cause damage to the environment.
The container houses are all completed in the factory, with a high degree of industrialization, saving resources and making fuller use of energy.
Installation is quick and convenient, recyclable, more environmentally friendly, and energy-saving.
Most of the materials for container houses are steel, which can digest part of the current excess steel production capacity in China and can be better recycled. It will not turn into construction waste to cause damage to the environment, and there is no need to encroach on land due to construction waste.
FAQs
Recent Blogs