Prefab House Malaysia
Malaysia is famous for its beaches, tropical rain forests, and various cultures and people. The National Housing Department of Malaysia's goal is to build more than 200,000 new housing units by 2020 while increasing the production efficiency of construction sites by 25%. Therefore, Chinese prefab house has become the first choice of housing for workers on construction sites in Malaysia. China Prefab house can make more effective use of production materials, reduce construction waste, and automated production can reduce noise pollution on the construction site. Coupled with relatively simple on-site assembly methods and less demand for manual labor, temporary prefabricated houses reduce the health and safety risks of the construction site.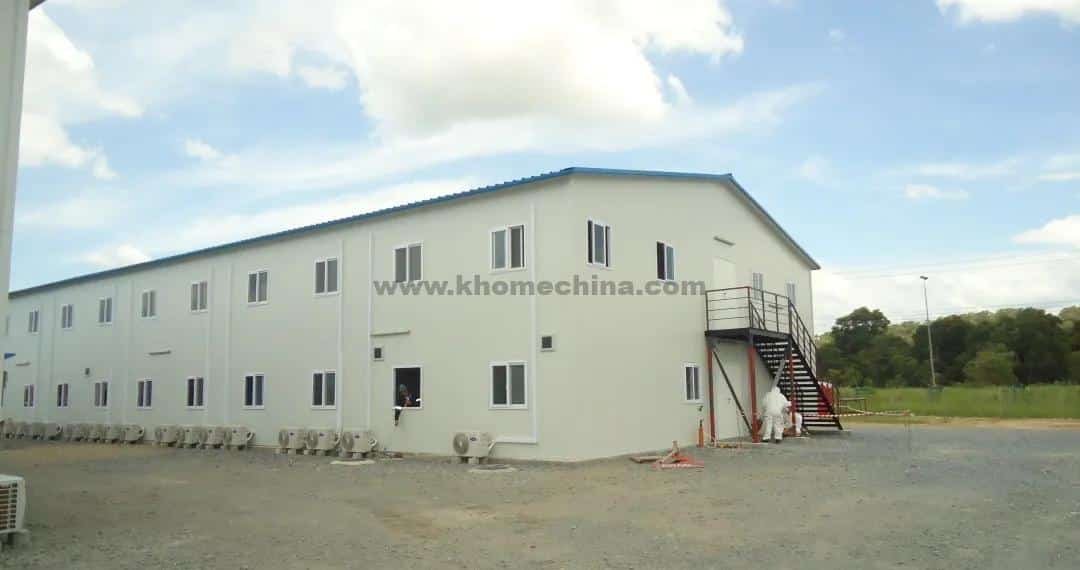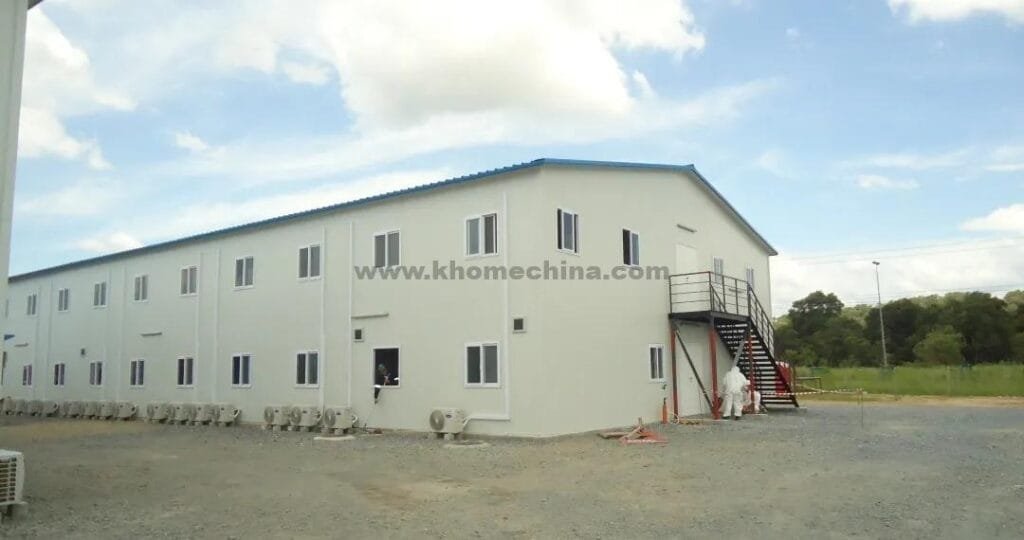 Prefab House in Malaysia >>
Prefab House Supplier Malaysia
As a professional supplier of prefabricated houses, K-home not only carried out layout planning for the Malaysian market but also analyzed the prefabricated house components to be produced and the required production capacity. Taking into account the impact of improving production efficiency, the developed program has been tested many times. We conduct industrialized, dimensional trial production of walls, ceilings, room units, and facade elements in a planned and controllable factory environment. Only install on the construction site according to the fully prefabricated structure and assembly drawings.
Highly automated mechanical technology ensures maximum equipment productivity and a consistently high-quality level of modular prefab house components. The use of an automated production system can ensure the completion of the production of walls and ceilings arranged in chronological order in the order schedule, and manage the order of entry and exit, as well as the curing time and the loading and unloading process. The most advanced mechanical technology ensures an efficient and productive operation process. Nowadays, sophisticated high-performance equipment, turning, and transportation equipment, and fully automatic time measurement of all processes and transportation routes provide an increasingly higher degree of automation for prefabricated factories. This is not only important in terms of equipment factory productivity. This also ensures a consistently high-quality standard and increases the utilization rate of steel raw materials.
Prefab House Features in Malaysia
Prefab House Product Upgrade

The concept of prefabricated housing was very different in the past than it is now.
They are considered to be very inconsistent and unreliable due to low-quality design and lack of practicality.
This is why most large projects and other means of construction use permanent buildings, which leads to the overuse of permanent buildings, as well as old and dilapidated buildings everywhere.
Knowing this, because of prefabrication technology, we have changed this thinking and brought innovation, thus making it easier for the industry to build prefabricated buildings using prefabrication technology.
We turn prefab into a home living space. Durable and affordable.
As a leading manufacturer of prefabricated homes, K-Home has successfully exported prefabricated homes to more than 130 countries through meticulous cost control, strict quality control, competitive pricing, and extensive experience in a custom housing.

From affordable prefabricated housing and prefabricated school programs to construction offices and security kiosks, our wide range of the latest technology services are designed to make your life easier.
When your prefabricated building arrives, we will provide full support throughout its life cycle. We can guarantee that they are the most practical and cost-effective products on the market.
In addition to being practical and economical, they are extremely durable.
We are designed to make houses withstand any adverse environmental or natural or other hazards where they are located.
We know the importance of keeping pace with the constantly evolving technology of our time and want to do our best as a family to keep pace and implement new and innovative ideas in our programs while promoting comfort and new work concepts for our employees.
We treat each other with respect, which is why we are successful in the industry.
Why are Prefabricated Houses So Popular ?

It is normal for many people to assume that houses with these features are either of poor quality or very expensive.
However, the development of new technology has made it possible to build quality houses at a low cost.
Prefabricated homes made in factory environments are not actually a new invention. Post-war disasters or natural disasters, or the economic backwardness of the region, brought great financial difficulties to many people who wanted to build houses.
For many people, buying a new home is seen as an expensive luxury.
This situation led manufacturers to produce ready-made houses in factories and overtime began to spread throughout society.
This trend has begun to be used to address the increasing housing problems caused by global urbanization.
Prefabricated houses, though originally used in developed countries, spread around the world over time.
It began to be used not only as a solution to housing needs but also for personal purposes.
Low Cost Prefab House in Malaysia

Prefabricated housing is not the first technology used in Malaysia.
Prefabricated homes can be found everywhere, from big cities to stunning tourist attractions.
Prefabricated structures can sometimes be constructed as extensions of existing buildings.
It was also used as a summer house due to its ease of installation and maintenance.
The most important reason for choosing prefabricated homes is cost.
They are very easy to assemble and can be completely built-in just a few days.
It allows you to make subtle changes to the design and order the style you want.
Prefabricated houses in Malaysia offer beauty intertwined with nature.
Because it is environmentally friendly, it can be built anywhere, whether it is coastal or forest.
The modular architecture provides a lasting solution for settlements in earthquake zones.
Because of its lightweight construction, it is not dangerous in the event of an earthquake, and because of the quality of its materials, it is also a collapse-resistant hazard.
Recent Blogs