Temporary Modular Buildings in China
Temporary Modular Buildings are a building system that once again hits the fashion trend. It can be moved to various places anytime and anywhere, bringing people a more convenient and comfortable life. Depending on the number of people, it can be superimposed and extended to houses of different sizes.
Houses are places where human beings live. With the continuous changes of human evolution, the shape of the house has also been constantly changing.
From the cave dwellings and nest dwellings of primitive society to semi-crypt houses and ground houses of the Neolithic Age, to palace complexes and temple complexes, and to the modern buildings made of reinforced concrete, 3D printed buildings, and wooden structures.
The building materials and art forms of houses have undergone earth-shaking changes. Among the hundreds of structural buildings, portable buildings are becoming the new favorite of the temporary construction industry due to their convenience, environmental protection, and mobility.
Modular buildings are very suitable for the construction of temporary structures and can be built almost anywhere.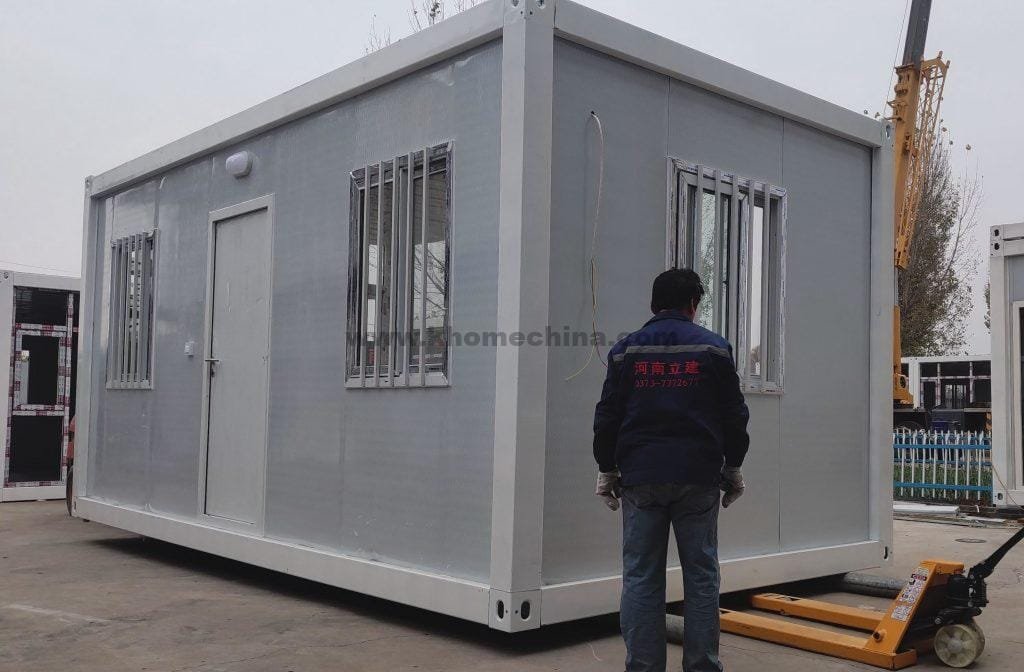 Why are Temporary Structures Used In Building Construction?
1. Perfect Functionality
As modular container buildings become more and more popular, their perfect functionality has also been realized.
(1) The appearance is firm, strength, and rigidity, and has excellent seismic (level 8) and wind resistance (level 11) performance, and the service life is more than 20 years;
(2) The capacity is large, and it can be combined up and down, extending left and right, etc. in a 360° combination;
(3) Installation is quick, 4 workers can complete one unit in half a day;
(4) The facilities are complete and you can live in directly.
2. Extraordinary Environmental Protection
The modular container is easy to recycle, movable, and can be used many times, as well as new environmentally friendly materials such as fireproof, waterproof, heat insulation, and sound insulation, so that it has a strong ability to adapt to the environment.
(1) High repetitive utilization rate, which can be recycled many times;
(2) The damage is low, and more than 90% of the materials can be recycled and reused;
(3) Low carbon and environmental protection, with less construction waste. Compared with traditional buildings, it greatly reduces the damage to the environment.
3. Unlimited Creativity
By increasing the use of space through reasonable design, a unique modular building can be created. The creativity of container construction is mainly reflected in the novel exterior, the comfortable and beautiful interior, and the rationalization of space transformation.
At present, modular container buildings have been used in various fields: container hospitals, container offices, container hotels, container dormitories, container supermarkets and so on.
4. Unique Mobility
(1) Bulk transportation can greatly save space and freight;
(2) The whole container can be transported directly to the destination without re-installation.
Temporary Modular Buildings Manufacturers
Our factory is located in Xinxiang City, in the middle of China.
It is the temporary Relocatable Modular Buildings original place and has more than 100 factories that have the same kind of products and are full of the supply chain for the portable house. We can say our products in Xinxiang city have covered 90% market in North and West of China since our competitive price and high guaranteed quality and service. More than 20 years' experience and always catch the trend of the market. Always we are the first one who introduced the most advanced new production line.
Many many Africa markets like our design. The modular design help people easier for maintenance for the houses.
Base on our most rich experience in our local market, our overseas market have big exploration every year.
We want to recruit the most powerful agents and distributors for our products. Also, we are willing to make investments in Africa Market for production line and warehouse and bring our technology and experience to Africa. We already have 2 agents in Kenya and One agent in Ethiopia. And our warehouse plan is on going very quickly.
Need Temporary or Permanent Modular Buildings
Compared To Traditional Construction, the Avantages of Temporary Modular Buildings:
Shorter construction time: The components of the temporary modular buildings are all pre-produced in the factory. After the customer receives the goods, they only need to assemble it on site.
our team will carefully guide you to install it and help you finish the project. If necessary, we can also produce a 3D drawing so that you can see your project clearly.
After installation, it can be directly put into use without secondary decoration, and it is not harmful to health !
Lower cost: The cost of traditional buildings is very high, and a second decoration is needed. But if you use modular buildings, it can greatly reduce your investment.
Flexible layout: Modular design, so you can combine, increase and decrease it at any time.
Movable: When you finish your project on one site, you can move it to other sites for other usages. Just hoist it without assembling.
Temporary Building Options for Disaster Relief and Emergency Services
For those refugees and homeless people, temporary modular buildings can be used to quickly meet people's basic needs:
Accommodation facilities
Sanitary facilities (bathroom and toilet)
Medical facilities (clinics and hospitals)
Educational facilities (schools)
Recent Blogs