Rockwool sandwich panels for wall and roof
The Rockwool Sandwich Panels production process adopts the colored steel plate as surface board and the core material is the self-extinguishing closed-cell rock wool, it is a kind of high–strength composited building material, and it was formed in the automated continuous molding machine, by combining the pressed colored steel with high strength adhesives. Rockwool sandwich panels have excellent fire performance because the color steel plate and rock wool materials are fireproof best.
Rock wool sandwich panels are divided into wall panel systems and roof panel systems.
Wall Panel System
Rockwool Wall Sandwich Panel with sealing side is recombined into a beautiful, flat, and tough building board by choosing two layers of high-quality color coated steel sheets or other precisely profiled metal sheets as its faceplates, rotating the stripped Rockwool 90 degrees after roll forming(make the fibers vertical to the upper and lower steel sheets )and strongly binding high-quality Rockwool with the metal faceplates using high-strength, high adhesion,high-fire-prevention binder. Excellent fire prevention, thermal insulation, environment protection, and other characteristics of the formed boards provide the best choice for industrial building envelope systems.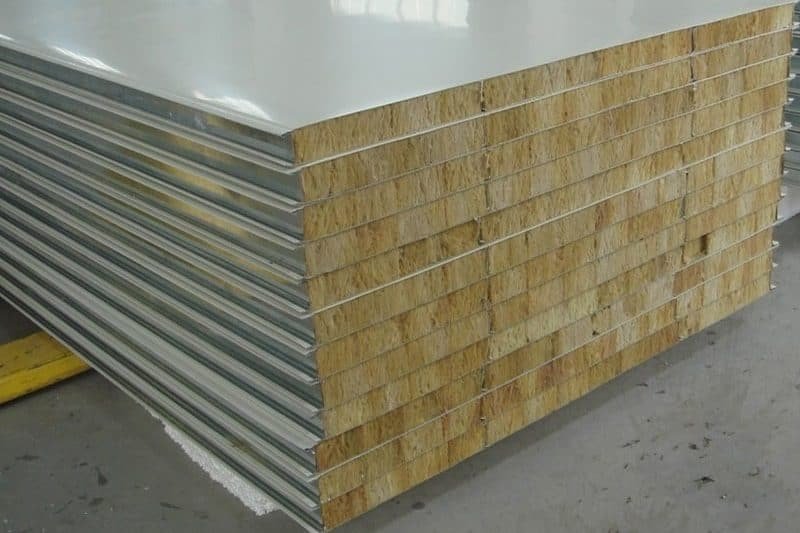 Rockwool Sandwich Panel Features
1. Easy installation and can be used many times over.
2. Lightweight and save cost.
3. Extensive Applications: House, Warehouse, Workshop, stadiums, villa, Shed, Container, etc.
4. Environmental protection, stable structure, fireproof, waterproof, durable, and energy conserving.
Wall Panel Install
Roof Panel Systems
The unique fire-proof polyurethane/ PIR side sealing technology improves the airtightness and water tightness of the lap joint, effectively preventing the occurrence of the cold bridge phenomenon. At the same time, the occurrence of peeling of the steel plate and the core material at the lap joint during the handling of the sheet is avoided.
Roof Panel Install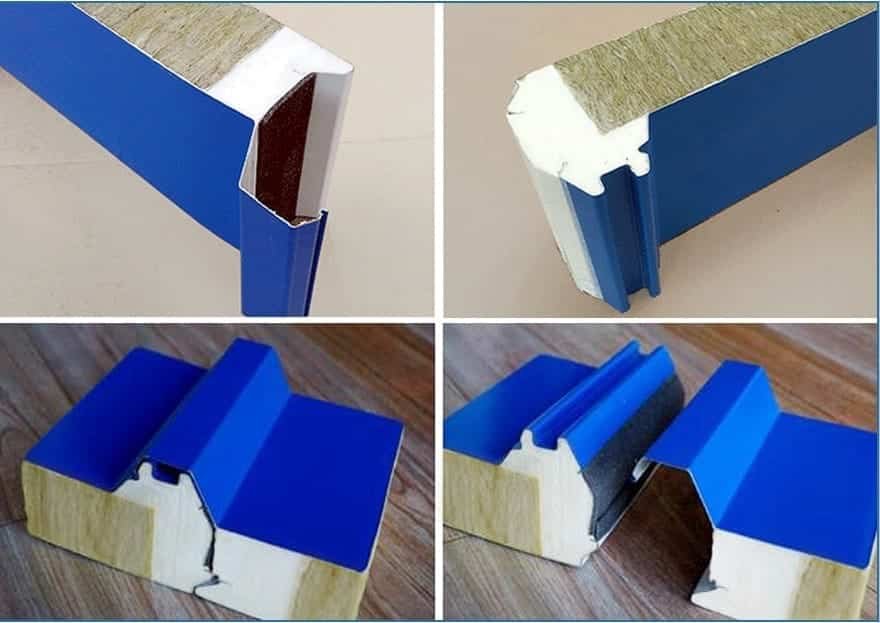 Taking high-quality natural rocks such as basalt, gabbro, and others as main materials, the core material is a kind of artificial inorganic fiber after the process of high-temperature melting and fiberization with the characteristics of very low slag and dust content and non-absorbent. It is "real Rockwool"!
Like the food sandwich, the sandwich panel also has kinds of core material to choose from. Considering the functionality of the sandwich board, its core is mainly fireproof materials, sound insulation
hydrophobic material, etc. Our factory could supply more than 8 kinds of materials for customers to choose from: EPS/XPS/PU/MGO/rock wool/glass fiber/eps cement/aluminum honeycomb. For more core material, we also accept customized.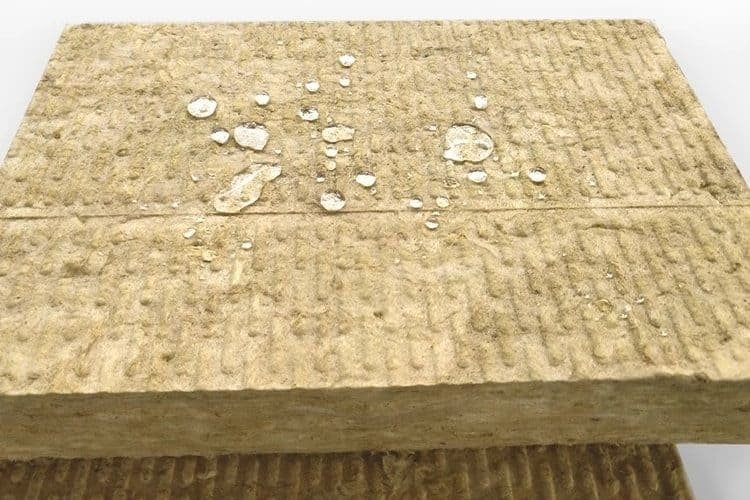 Effective width
Wall panel: 950mm 1150mm Roof panel: 950mm
Length
According to the customer's request(consider load in a container)
Materials
rock wool sandwich panel used the base plate –Color steel sheet
Structure
Upper and lower layer: Color steel sheet
Middle:rock wool/eps/glass wool/ polyurethane
Thickness
Color steel sheet: 0.2mm-0.6mm
core material thick: 50mm 75mm 100mm 150mm 200mm
The density
40-80kg/m3
Conventional color
Ocean blue, Tephrosious, could be customized
Character
Light in weight, heat insulation, green and environmental, fire protection: A level
Various roofs and walls referring to the large-size factory buildings, storage, clean rooms, exhibition halls, gymnasiums, prefabricated house, Indoor partition, interior partition, office partition, factory partition.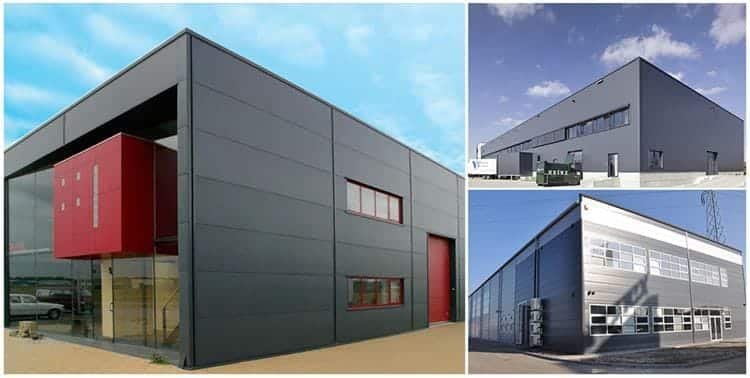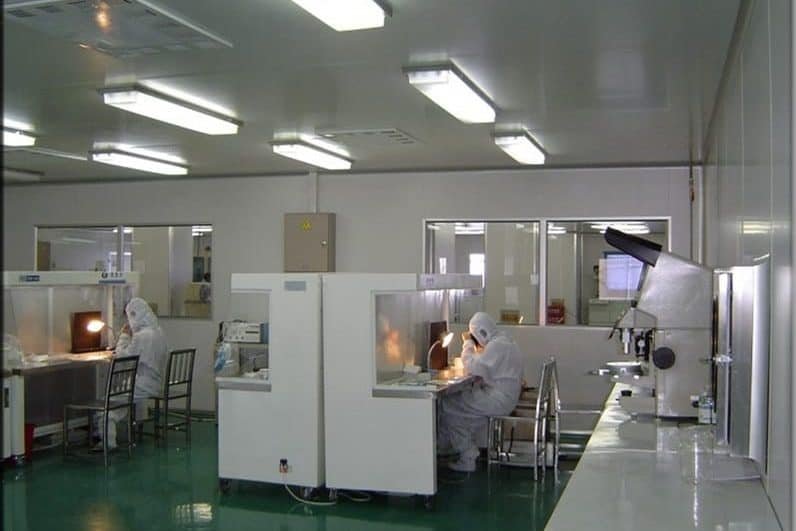 What is sandwich panel?
Sandwich panel is any structure made of three layers: a low-density core and a thin skin layer (aluminum sheet) bonded to each side.
1. Our rock wool sandwich panel has the following characteristics: light dead weight, high mechanical strength, excellent shearing resistant performance, strong corrosion resistance, high durability, etc.
2. The sandwich panel has excellent insulating performance: heat insulation, sound insulation, etc.
3. It is easy to install and can be used many times over.
4. Nowadays, the rock wool sandwich panel is widely used for cleaning workshops, industrial factory buildings, office buildings, stadiums, villas, and public buildings, prefabricated houses, etc.
Why Buy From Khome?
K-home sandwich composite panels have good insulation and heat resistance performance, also have features of high strength, beautiful appearance, fast assembly, fire-proof, heat-proof, flame retardation, etc. Our products are mainly used for building envelopes and all kinds of insulation cladding walls for different construction. We also have the rock wool composite panel production line, a large bending machine (6 m), shearing machine(6m), drilling machine, Blast cleaning equipment, and CNC control system and automatic cutting, automatic assembly, automatic welding, automatic straightening equipment. That totally eliminates the faults from manual operation. Our strong technical force and highlight scale effect help us to become the first-class fabrication and installation company for steel structure and wall panels.
Professional Supplier: Sandwich panel manufacturer in China.
Quality Assured: Committed to offering high quality products and services.
Short Time Delivery: Order steel stock before 4 p.m.
Experienced team: more then 6 years export experience
After-sale Service: Fast, Prime and Efficient
Related Products
Related Project