Drilling Camps Project in Nigeria
Product: Container Camp Construction
Manufactured by: K-home
Purpose of Use: Man Camp Housing Units
Quantity: 40 Units
Capacity:100 People
Time: 2019
Location: Nigeria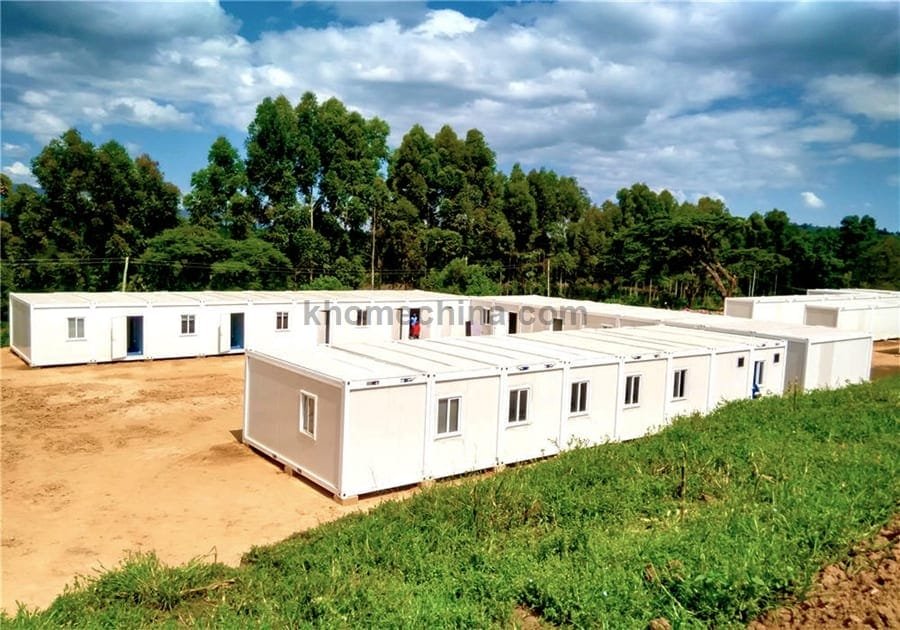 Design:
In the beginning, the client gives us their specification: Drilling Camps should include a meeting room, worker camp, and public toilet, if has a Terrance will be better. Our engineer team takes every idea into consideration and customized one design based on the above, the client is satisfied with that.
Urgent lead time
Due to the urgent and short lead time, we arrange a meeting with every department to cooperate properly. We are keen on taking safety as the first important, so we ask more workers to control the manufacturing process, and after 5 days and nights of hard work, 40 units are finished.
Installation
As we know, the only criterion that can prove a company is good or bad is after-sales service, K-Home is a trusted company before client picks up cargo from their seaport, we ready all installation documents for their clarity in advance, though there is time differences between China and Nigeria, our engineer and sales manager supply 24 hours remote guide. The client give much good feedback on our solution and service, and they were eager to cooperate with us again.
Photo Gallery >>
Ultimate Comfort and Complete functionality for Drill Camps
Now that we have entered rapid development, camping container houses have become an indispensable part of it. The construction of various facilities, such as oil development, drilling, geological survey, and road construction, will be used in the construction of camping container houses. Camping houses are used outside for a long time. Work is an essential living and accommodation facility. The drilling camps are made of steel structures and sandwich panels, which are convenient to transport, do not need too complicated structures, and are more convenient to transport, which effectively improves the work efficiency and quality of life of people working in the field.
Maybe, the container camps may not be as good as the traditional house, but the container camps are also very complete in their facilities, strong in structure, can withstand more pressure and shock, can well withstand the invasion of typhoons, and provide people with safe and Inexpensive housing. As long as you manage it carefully, it can also become a very comfortable and warm home. Perhaps many people think that the drilling container camps may only be temporarily lived for a period of time and should not be so particular. However, this idea is wrong. No matter where we live, we should strive to create a more comfortable environment for ourselves.
Drilling Container Camps Material
The drilling container house is firm and sealed, and the barracks have good rain, snow, and sand resistance;
The thermal insulation layer adopts EPS/Rock Wool/PU thermal insulation and sound insulation material with excellent performance, which is used in conjunction with the air conditioner to keep warm in winter and prevent heatstroke in summer;
The circuit design is equipped with overload protection, leakage protection, and grounding wire to fully ensure the safety of the workers;
Drilling container house configuration: The accommodation room is fully equipped with elegant tables, chairs, wardrobes, beds, etc. (various facilities can be made and prepared according to user needs)
The floor is made of galvanized purlins and MGO boards, all of which are heat-insulated and equipped with PVC floor leather;
The appearance of the drilling container house is reasonably matched with different colors according to customer needs, which is beautiful and generous;
The container housing steel frame adopts multiple anti-corrosion and has a long service life. All decorative materials and interior configurations meet environmental protection requirements.
Reasons To Choose Drilling Camps
Transportation: Bulk transportation is convenient for sea & land transportation. Greatly reduce batch shipping costs. And the transportation is convenient, especially suitable for units that frequently change construction sites;
Sturdy and durable, all made of steel, with strong anti-seismic and anti-deformation capabilities;
Easy disassembly and assembly, superior performance, stable and firm, good shockproof performance, waterproof, fireproof, and anti-corrosion, lightweight. The container house is an integral structure with a frame inside, and the walls are made of color steel composite panels, which can be moved as a whole and have a service life of more than 15 years
Performance advantages: high sealing and safety, waterproof, windproof, fireproof, anti-corrosion, cold-proof, shockproof, sound insulation, heat insulation, and repeated use. Enhance and improve the comfort and safety of properties.
Installation cost advantage: fast installation, 4 skilled workers can easily build a house within 1 day, without on-site construction, greatly reducing labor and time costs.
Environmental advantages: From production, transportation, and installation to storage, container houses have no disassembly and assembly losses, do not generate any construction waste, do not occupy, do not destroy cultivated land, are safe, low-carbon, and environmentally friendly, green production, and green use. Completely people-oriented, to protect the environment.
Why Choose K-HOME?
From the structural point of view of the drilling container house, the modular container house is a steel metal frame structure, and the skeleton adopts a bolted steel structure, which is very convenient to disassemble, and the workplace can be changed according to the work needs. In particular, with the continuous deterioration of the outdoor working environment and the gradual increase of the work intensity, the new camping house has received extensive attention from the outdoor work team. The new drilling container house not only has many advantages over the camping house, but at the same time, the outer wall panels on the four sides are fixed by cold-rolled corrugated steel plates, and the base and ceiling of the camping house, which greatly improves the strength of the wall, and the structure of the house is in the process of lifting. Not easy to deform. The rock wool sandwich panel filled in the wall has greatly improved the thermal insulation performance, and fireproof and explosion-proof performance of the camping house. In addition, in order to improve people's outdoor living environment, the new camping container house takes into account functions such as leisure, thereby making people's living environment comfortable and beautiful.
Our company is based on the concept of "honesty, business with morality", adhering to the tenet of "quality first, reputation first, service first", and serving customers with excellent products and reasonable prices. The company is willing to be friends from all walks of life, and join hands to create brilliant.
K-HOME is a professional supplier with many years of experience. We will support a one-stop solution that includes diversified designs and solutions for our clients. The company's main business is temporary prefab housing, with complete varieties, excellent quality, and reasonable price, and has been well received by many users. We K-HOME is the partner you need!
Share With:
Related Projects
Recent Blogs