Prefabricated Labour Hutment for Road Construction Workers
Product: Prefabricated K House
Manufactured by: K-home
Purpose of Use: Prefabricated House
Area: 2785 m2
Time: 2021
Location: China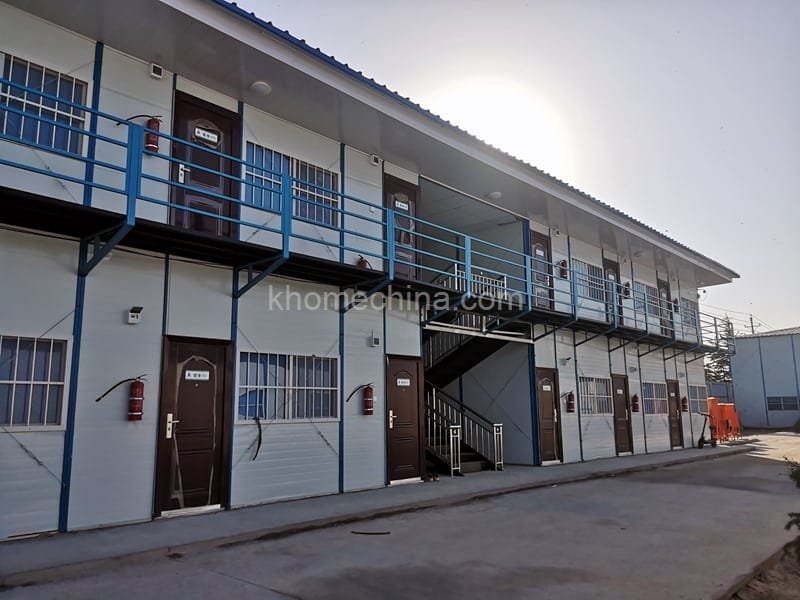 The Prefabricated Labour Hutment is used for workers who build roads.
Design
It includes a warehouse, dormitory area, laundry room, toilet, canteen, and office area.
Office Area
The office area is arranged in a U-shape, with a garden-like office environment. The office building is a closed corridor, and the three buildings are connected to each other.
The toilet and printing room are on the left and the dining room and kitchen are on the right. The main body in the middle is a two-storey building, including offices, meeting rooms, study rooms, etc.
Living Area
The dormitory area consists of two dormitory buildings. The area of ​​each room is about 20 square meters with one door and two windows.
Each room can fit three bunk beds, a wardrobe for 6 people, and a desk.
Solution
The project is urgent, after confirming the drawing with our customer, we quoted the best price and the shortest delivery time.
After we received the advance payment, we arranged the production immediately. Finally, we delivered the goods within the specified time and the customer installed the houses in time.
Photo Gallery >>