Mine Site Accommodation for Workforce
Product: Container Camp Construction
Manufactured by: K-home
Purpose of Use: Temporary Workforce Housing
Quantity: 66 Units
Capacity: 260 Workers
Location: GCC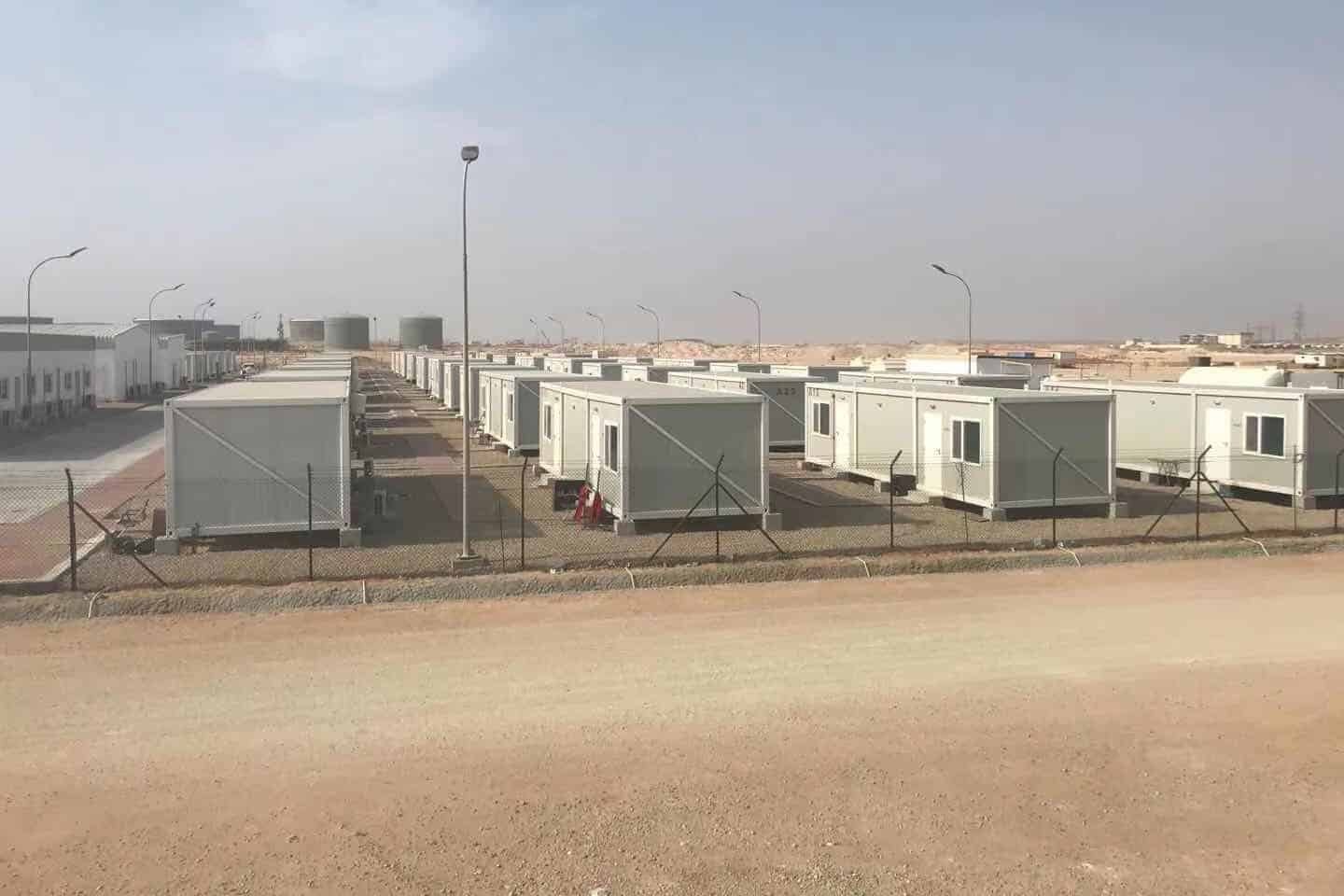 Mine Site Accommodation Man Camps in GCC
This Mine Site Accommodation is located in the GCC country, used for mine site workforce accommodation, and can accommodate 260 workers. Due to the frequent site location change, we suggest an independent container unit for easier transport in the future.
Photo Gallery >>
Challenges
Time limit-This project needs to be ready to use within 3 months.
The client doesn't have experience on design or assembling the container house.
This project only uses 2 years, after that they will shift to another location.
Their budget is limited.
Solutions
Due to frequently changing site location, we firstly recommend a portable container house, and all the dorms in the independent unit, this way will help further portable easier.
A single unit will be easier to make assemble. All units are assembled in the same way, just the first unit needs time to train all staff, the rest is in the same way, and only handhold tools are enough.
The long life span of the man camp housing can be used for at least 10 years or more, so they could transport it to the next project, this is a 1-time investment, a long-term return.
Outcome
This Temporary Workforce Housing completed in advance and within budget, helps this project could start as scheduled.
When they assemble our modular house, they told us each item is very heavy, that it must be very durable, the facts told them, it is more comfortable and more durable than they thought.
Besides the worker dormitory, it is also used for guardhouse, office, toilet room, canteen, kitchen, etc on our following cooperation.
Modular Buildings for Mining Camp Accommodation
Movable structures for mining camps and resources. Remote accommodation solutions for the mining industry and our mining camp accommodation modules are ideal for mine camps and worker accommodation.
We combine beauty with practicality and offer the best solution according to your requirements. Among the many prefab products we offer, we highly recommend purchasing our container dining rooms, toilet, shower containers, and more, as most of our products are made for temporary accommodation. We know how exhausting it can be to start a new construction project or mining operation. Therefore, we offer highly cost-effective solutions for construction sites, remote mining camps, and accommodation to minimize your construction costs as camp container homes are highly portable and configurable.
We know that every project has different requirements, so please get in touch with our dedicated team to discuss how we can manage your project.
Projects Show