Two Story Prefab Modular Dorms for Student Housing Project in Indonesia
Product: T-type Prefab House
Manufactured by: K-home
Purpose of Use: University Dormitory
Area: Total 11 buildings, 5000 ㎡
Time: 2018
Location: Indonesia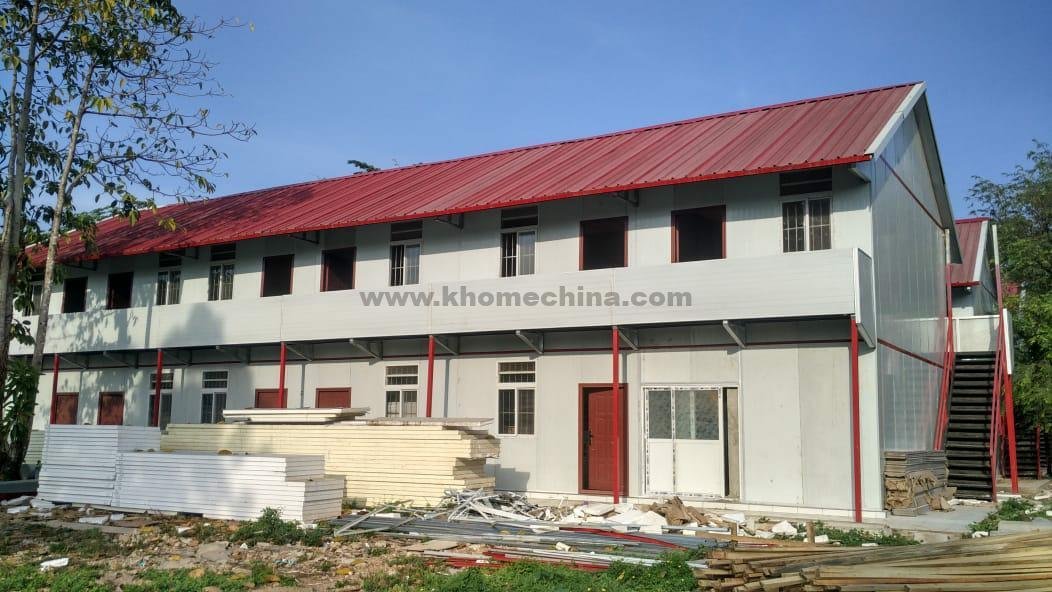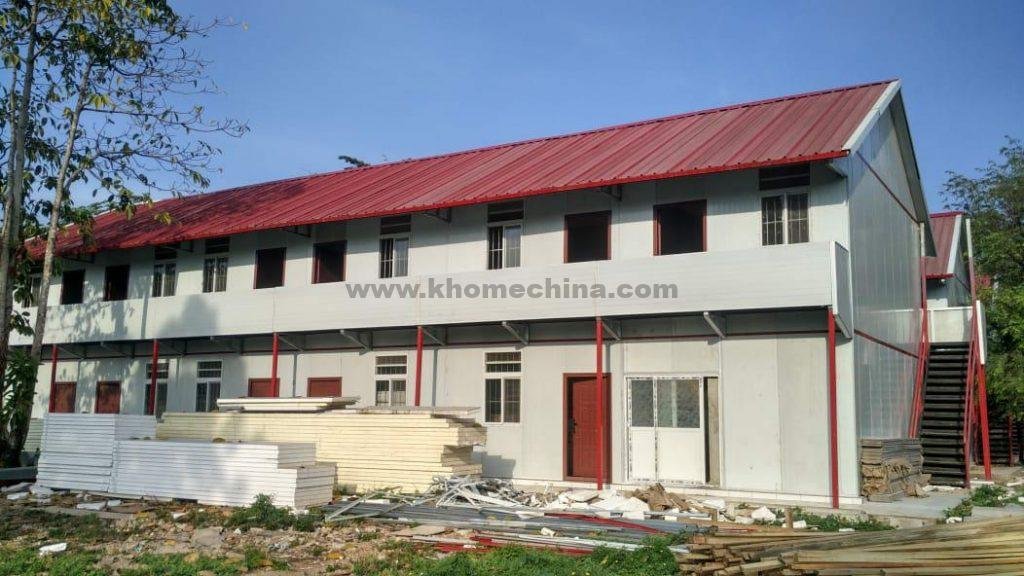 Details
In 2018, the client contacted us through Google to inquire about the drawing plan and quotation for a temporary university dormitory project.
Through the company and website information provided by the client, we learned that the client is a construction company with an annual turnover of more than 100 million US dollars, located in Jakarta, Indonesia. It operates in the following areas: real estate development and housing projects, engineering and construction services, infrastructure project management, design, and supervision services. Including the provision of residential buildings, apartments, villas, and other types of land developments such as commercial centers, hotels/resorts, office buildings, etc.
Customer Requirement
The client emphasized that this was a project they donated to a local university, and they barely made any profit, so they request that must be low prices and high quality. But the customer didn't specify what type of prefab house product they wanted, just asked for different products and offers within a week.
The following is the basic information provided by the customer:
The total land area is about 5000 square meters
It needs to accommodate 420 students, requiring a double-floor dormitory, 2 people in each room, and each dormitory building must have a public toilet.
Solutions
There are three main products in our company, including modular container houses, K-type prefabricated houses, and T-type prefabricated houses. According to the client's budget and requirements, our team first made a CAD floor plan and provided two different quotation schemes.

1. K-Type Prefabricated House
Environmentally friendly and economical temporary construction solution. This product uses a light steel structure as the skeleton, a color steel sandwich panel as the enclosure material, a space combination with standard modulus, and a flexible layout. The main components are connected by bolts, which can be assembled and disassembled quickly and easily, and the service life is about 10 years.
Advantage: Compared with the container house and T-shaped prefabricated houses, the price is the cheapest.
Disadvantages: The steel frame leaks out, and there are cross braces on the outside, which reduces the aesthetics.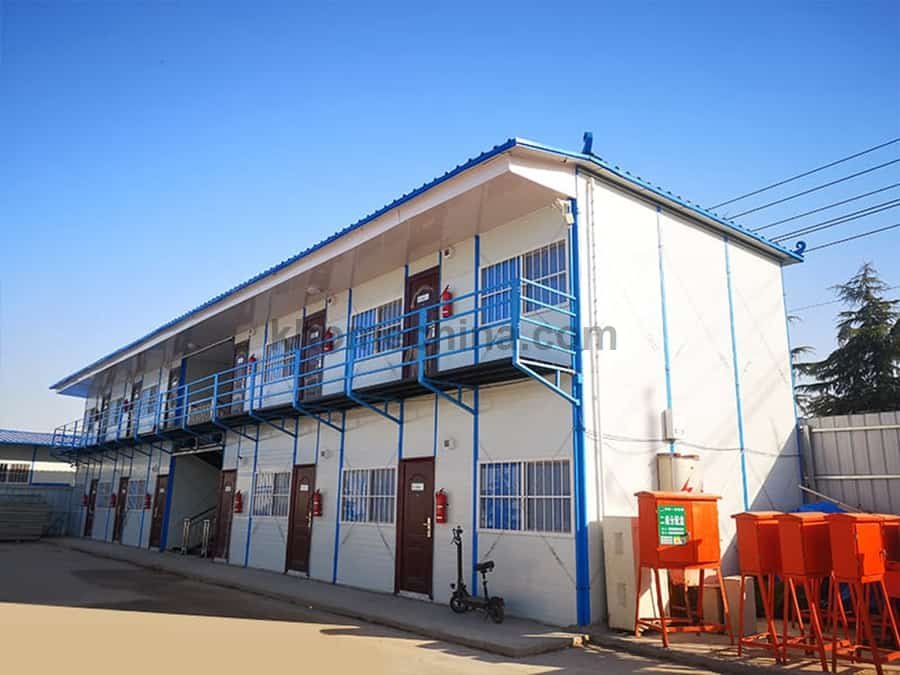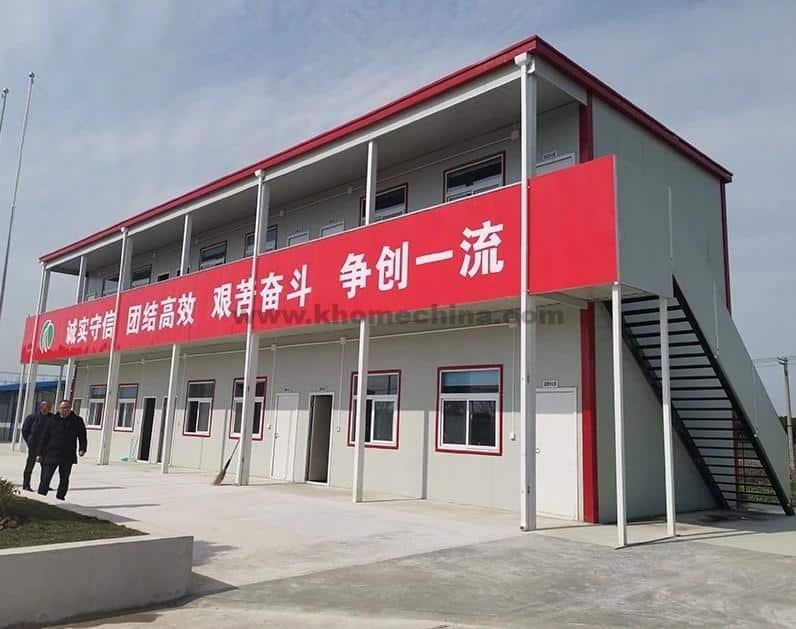 2. T-type Prefabricated House

T-type prefab house is a stereotyped house system formed by using the light steel structure as the floor load-bearing, making full use of the own strength of sandwich wall panels and through effective connection methods. The layout is more flexible and the airtight sound insulation performance is better. The service life is about 15 years.
Advantage: The exterior and interior are more neat and beautiful, and the airtight sound insulation performance is better.
Disadvantages: T-type prefabricated houses are slightly more expensive than K-type houses.
Outcome
In terms of appearance, the client excluded K-type prefabricated house room first, and he thought that the T-shaped mobile home was more concise and beautiful, and it was more in line with their expectations in every aspect. However, when designing the drawings, the client specially requested to make a double-pitched roof, and the ridge height was set to 2 meters because the local climate is high temperature and rainy.
The following are the finalized student dormitory drawings, a total of 11 student dormitory buildings.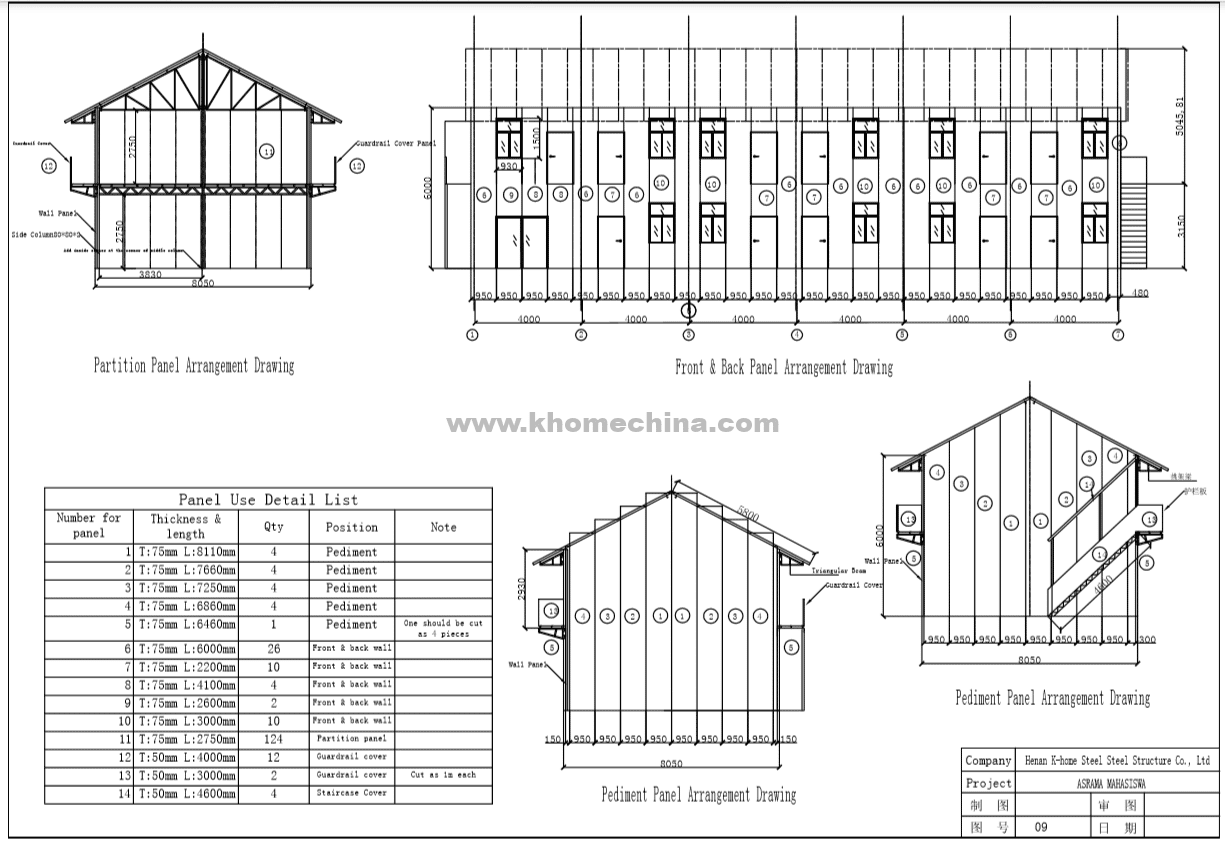 Finally, after many drawing revisions and price communication, the customer signed a PI contract with us. After project delivery and installation, our products and services are highly rated by customers. "You are the most professional and efficient prefab building supplier I have ever met," he said. Now, this client has been working with us for four consecutive years. We are also honored to meet the client who is so sure of us.
Project Gallery >>
In addition, if you have the same prefab building needs and you are close to Jakarta, you can visit this Modular Dorms Project locally in Indonesia.