Prefabricated Cabins
Prefabricated cabins are more flexible in design and use. Not only can they be customized for different purposes, but they can also be moved to another location after installation and reused. Prefabricated cabins can save construction capital and costs to a great extent, which is not only reflected in the cost of raw materials, but also in maintenance costs. The sandwich panel prefabricated cabins are made of galvanized steel and sandwich panels, with a strong structure, wind and earthquake resistance, and relatively simple maintenance.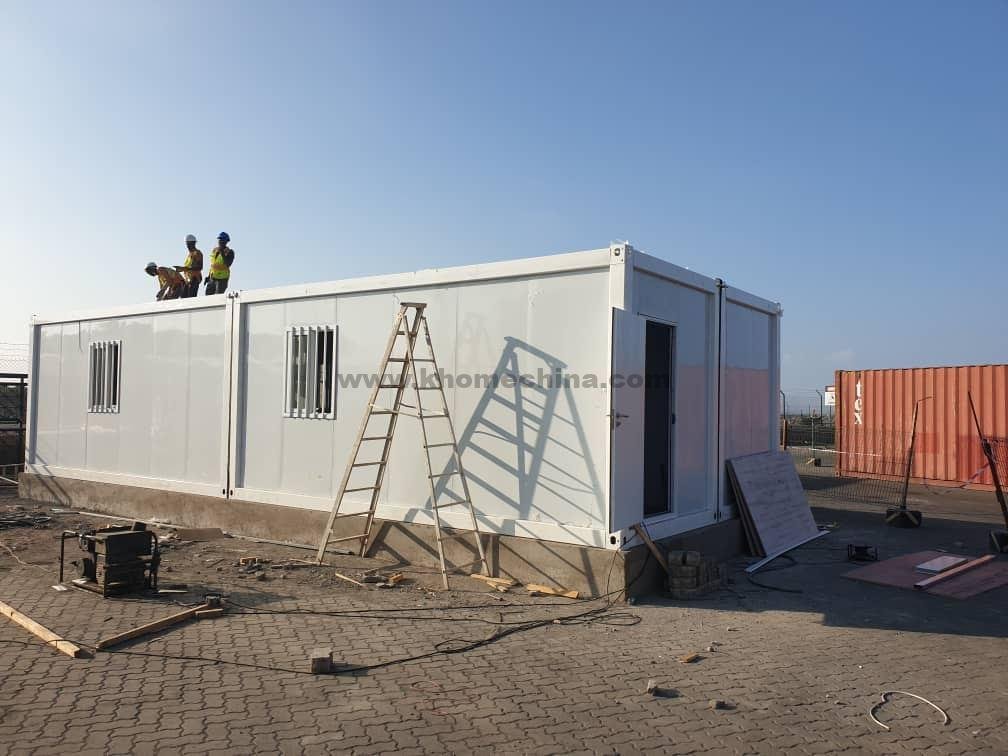 What are prefabricated cabins?
Prefabricated cabins feature a highly flexible modular home concept that can be adjusted to site conditions and the individual needs of residents without compromising architecture or functionality. All materials are environmentally friendly, providing residents with a healthy living environment.
Thanks to modular technology, one can build one's own affordable prefab cabins in the shortest possible time, with high quality and low budget in a place far from the city.
Pre-designed units that combine aesthetics with contemporary style, whether you use it to work, live or play, the space can be customized and flexible to your needs. All parts of the house are manufactured in the factory. If you need, we can also complete all the furniture and bathroom for you, so that you can move in after installation, saving time on decoration.
What can prefabricate cabins be used for?
The innovation of modern prefab cabins has entered the practical stage. The application of innovative design, space design, highly integrated design, material application, and intelligent technology in the container modular building makes the container modular building have multiple functions.
The increased adaptability of prefabricated modern cabins to functional space is not only about the space utilization of a single box, but more types of buildings can be created through the combination of boxes, ranging from small single-box buildings to large-scale modular buildings with hundreds of containers. , according to the needs of the actual project, its scale is also very different.
The application of modular design in the residential system is the need of society to optimize the environment and is the product of the market economy and future sustainable development. The role of modular design in the housing system is mainly to better combine with the later construction of the residence, and finally realize three low-carbon methods of standardization, prefabrication, and industrialization of the construction process.
Commonly seen construction sites will often use container houses, mainly because the container house next to the construction site needs to be dismantled after the construction site is completed. It can be moved to the construction site, and it can be assembled and continued to be used at the new construction site, which also saves construction costs.
Modular cabins for sale are also often used in public places, such as public toilets in scenic spots, security guard booths, police guard booths, etc. These places are mainly public areas that are convenient for installation and maintenance. Because the place is open to the public, its sturdy materials can also reduce the degree of damage due to unavoidable human factors, increase its service life, and help commercial builders save a lot of money;
Prefab log cabins can also be used as a residential villa for personal use, or because of their sturdy materials and the advantages of easy construction, it is easy for people to choose them. In addition, the container house can also save most of the decorative materials, less investment, and different transformation methods can be carried out according to different design schemes.
prefabricate cabins Gallery >>
Do Prefabricated Cabins Meet Building Requirements?
Different cities (maybe even different areas within a city) may have different rules and regulations for building prefabricated cabin homes. Before you start building, make sure you are familiar with approval issues and be prepared to consult with relevant authorities such as your local planning authority.
Kindly notice that our prefabricated cabins belong to the temporary building, which is different from permanent buildings. So when you check with the building requirements, please choose the correct classification.
Design Your Own Prefabricated Cabins
The steel structure sandwich panel prefabricated cabins are simple in structure, convenient in transportation, and relatively low in basic requirements. At present, modular prefab cabins can be customized before leaving the factory. Whether it is the plumbing, electrical, and other supporting facilities of the box, or the customization of decoration and decoration, all can be prefabricated in the factory, which can accurately meet the needs and can be moved in after installation.
You can design your own house freely. No matter whether you need a two-bedroom house, a three-bedroom house, or an open balcony, we can all achieve it for you. Besides that, the exterior wall can also be customized for different colors and patterns. Only need one layer of the decoration wall panel to do it. Or you can choose to paint it in your local.
The Installation of Prefabricated Cabins
Compared with traditional buildings, modular prefabricated buildings adopt the construction mode of "factory prefabricated production and on-site quick installation", so that the project can reduce construction water consumption and concrete loss by more than approx. Above, shorten the construction period or more, save energy by more than about, and improve the overall construction period efficiency.
K-Home will provide detailed construction drawings and manuals specifically for every client's project. People only need to hire local construction workers to build houses. They can master the installation method easily and quickly. If you want to have a try, you can also try to install the house by yourself. You can let us know any problems you have during the installation then we will provide online guidance.
The complexity of building a prefabricated cabin home is up to you. Like any type of building technique, container homes offer many possibilities. If you don't have much experience or confidence, you can start simple, and maybe in a later attempt, try a more complex container building. The great thing about shipping container homes is that they're easy to upgrade, so once you've gained your initial experience, you can always add extra rooms, floors, and even a pool!
Related Projects
Related Articles