Foldable Modular Homes
There are many types of modular homes, such as used modified shipping containers, bolted split-together containers, flat pack containers, folding containers, welded containers, and so on.
Using which one depends on the project location, the project environment, the project budget, and other specific requirements. The biggest characteristic of the folding container is fast installation speed. With only one crane, three people can complete the installation in 10 minutes, which is its unique advantage.
Today we take a closer look at Foldable Modular Homes.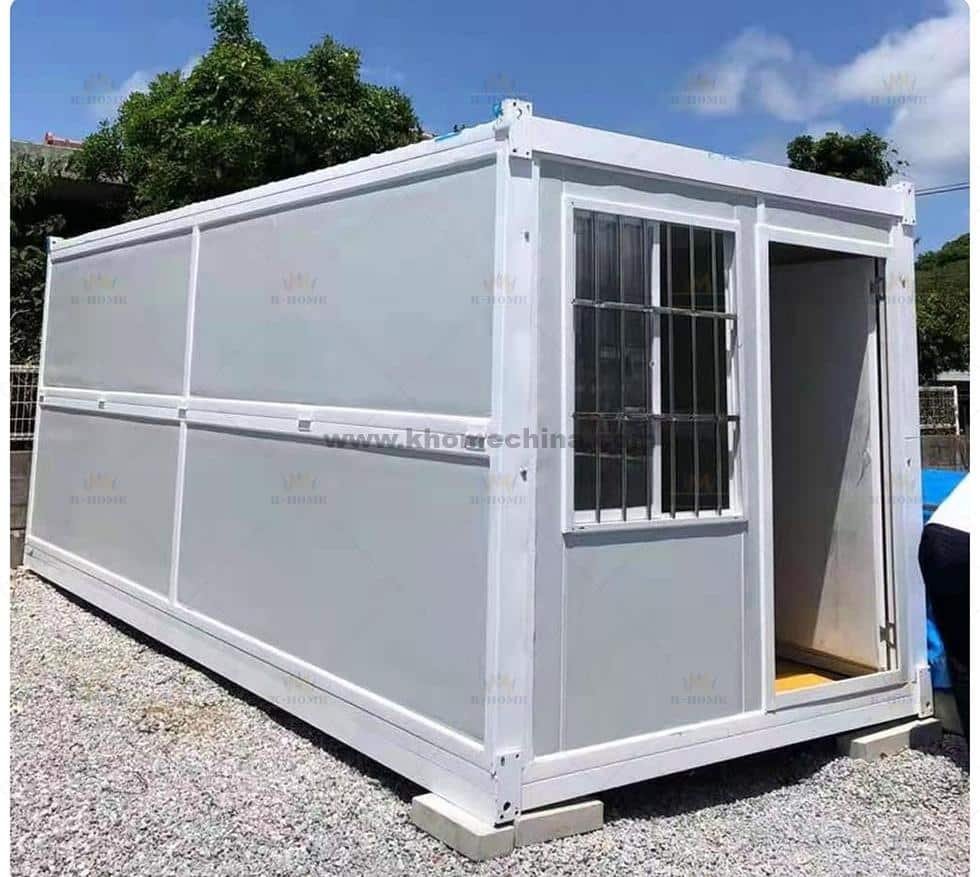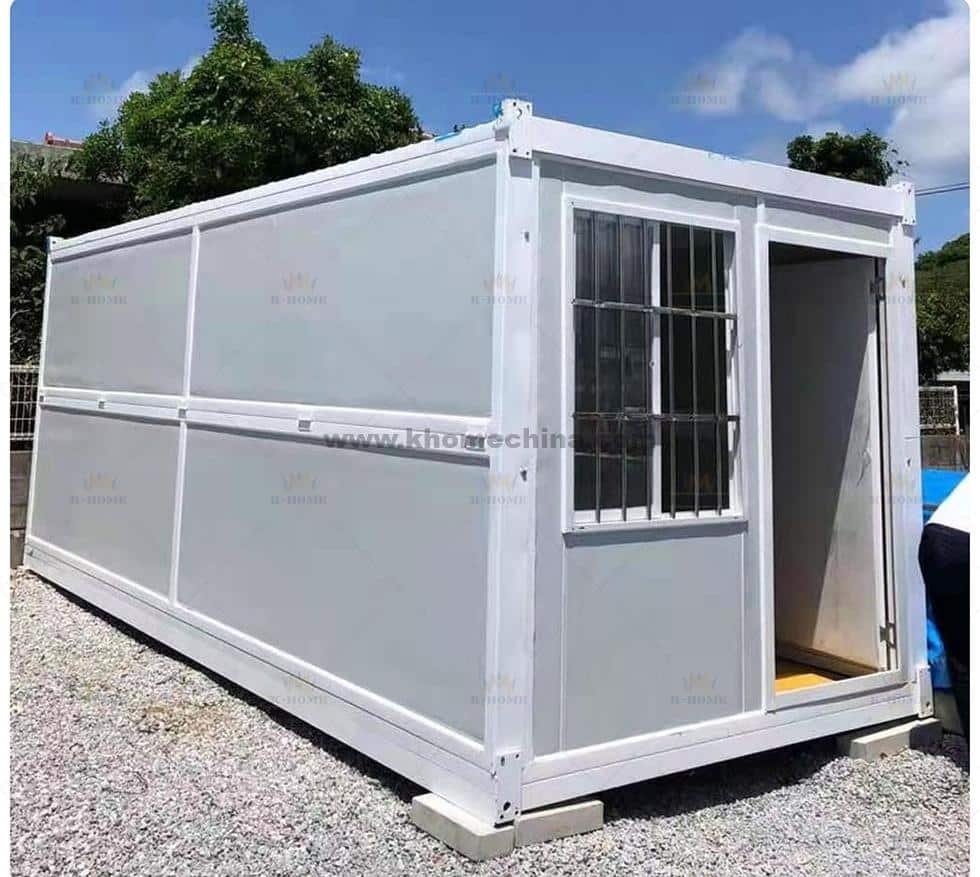 Product Details
Foldable Modular Homes Details
Product Origin: China

Size: 5800mm *2500mm * 2560mm or customized
Folding Height: 320mm
Lifetime: 10~15 years
The thickness of the Wall Panel: 50mm /65mm
Performance: Waterproof, fire prevention, sound insulation
Color: Customized
MOQ: 10~12 sets
Payment terms: TT/LC
Shipping Port: Qingdao Port
Production Capacity: 200 sets/day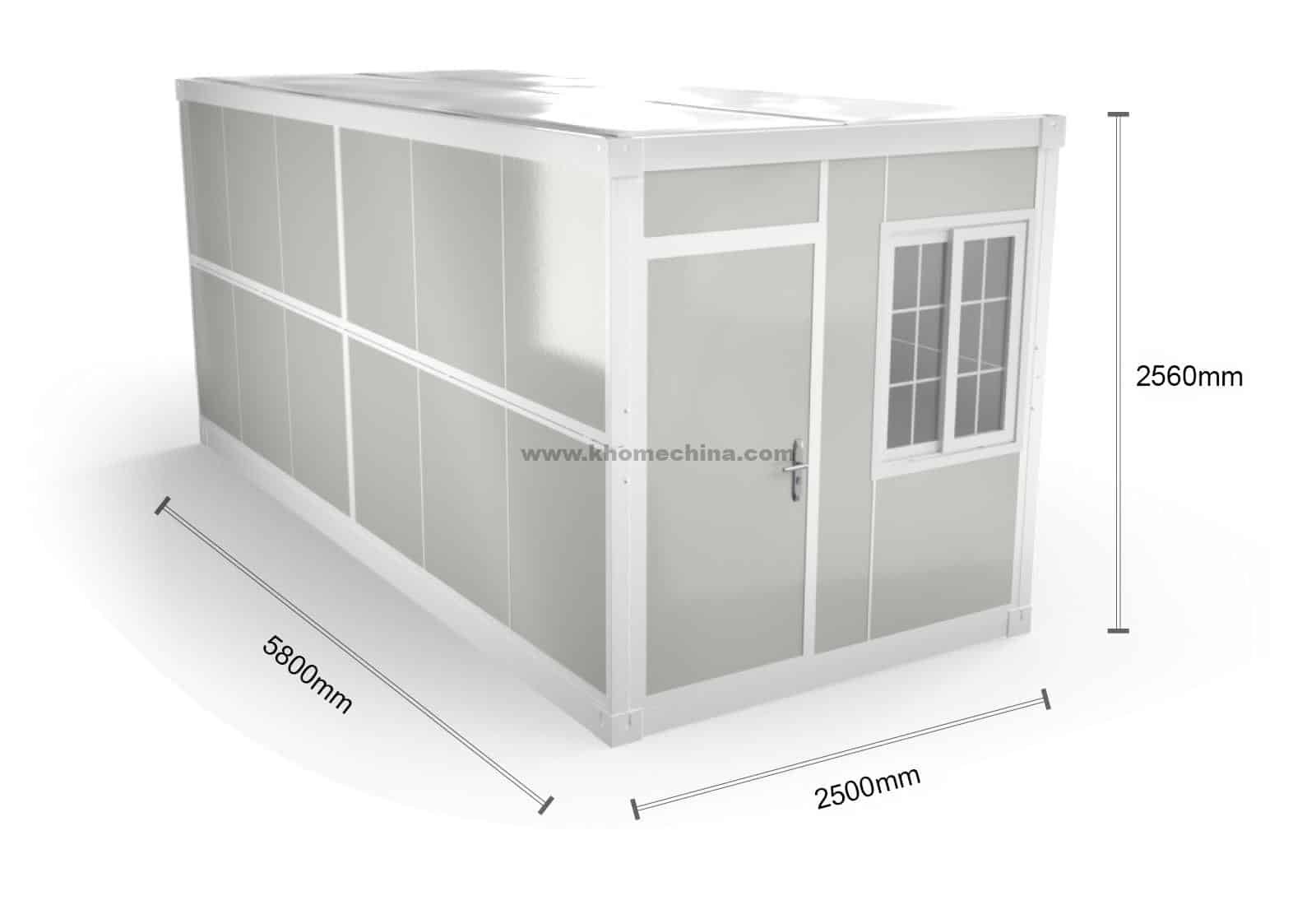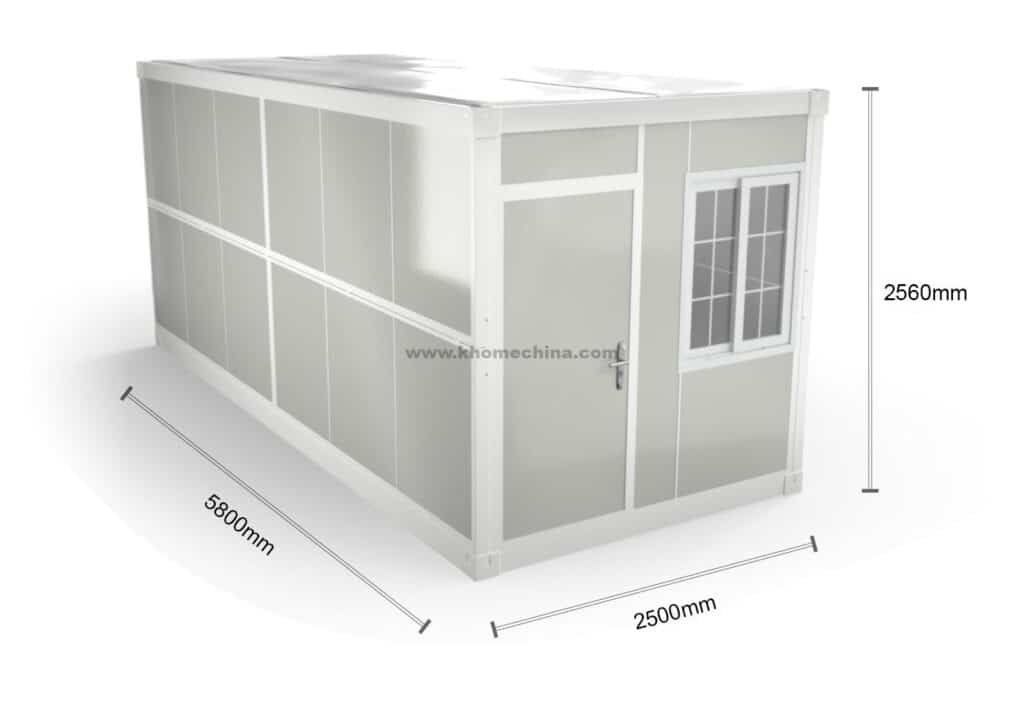 Four Steps to Build a Foldable Container House
The production and assembly of all the components of the folding container house are prefabricated at the factory. You can install the Folding House on the job site in just four steps.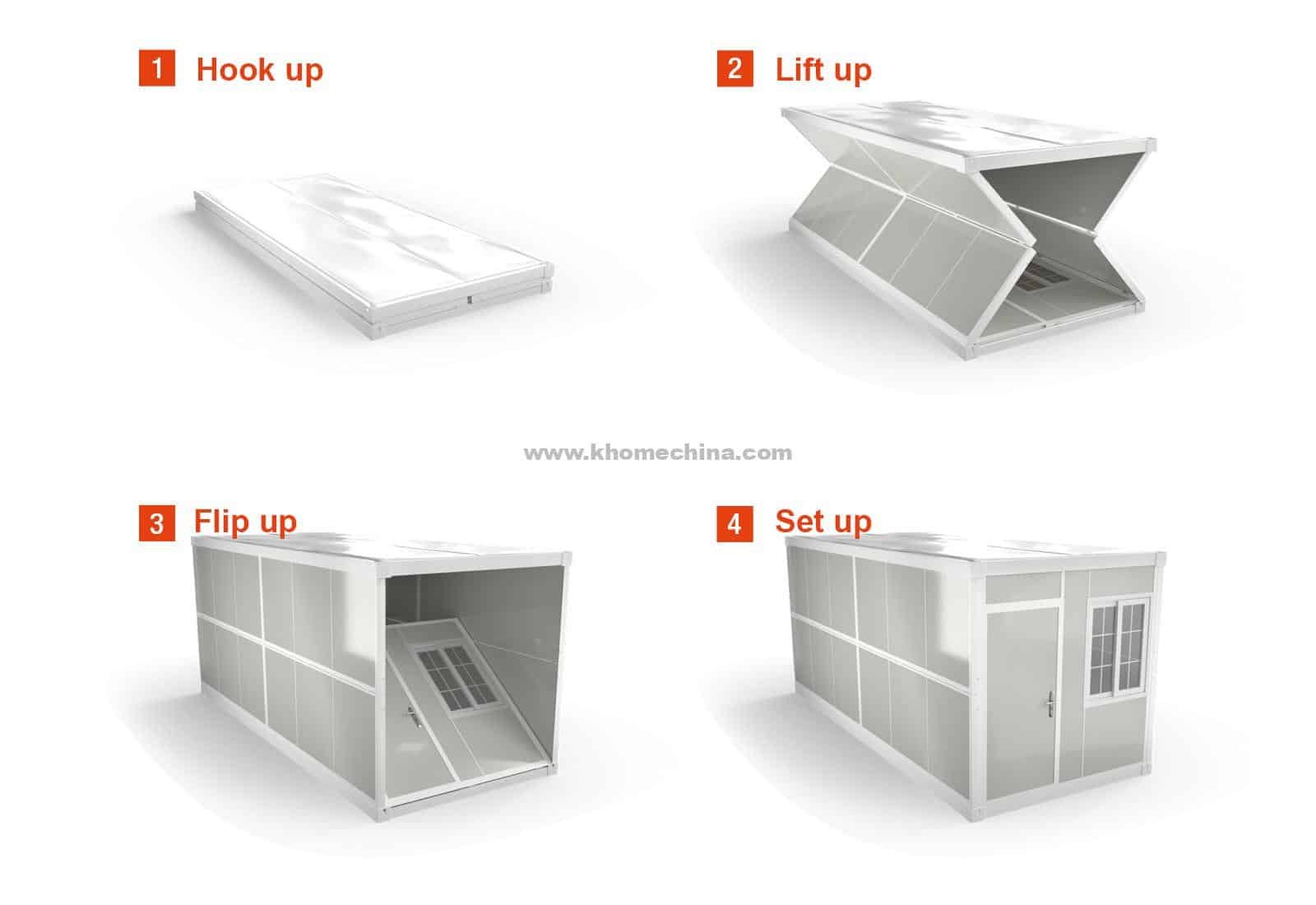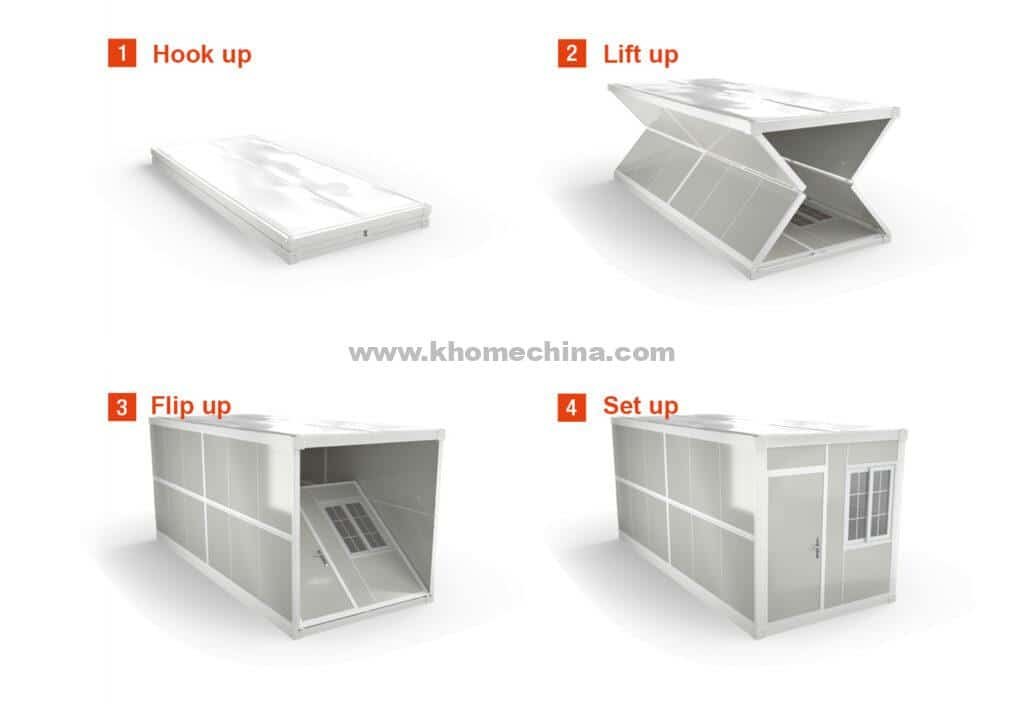 1. Use the crane to lift its roof. Lift its roof slowly until the house is unfolded and stop the crane there.
2. Expand the front and back walls of the container. Push the front and back from inside, and make it stand in the correct place.
3. Use the bolts to fix the whole structure. There will be premade bolt holes on the columns, and we will provide enough bolts for you to fix them.
4. Install the door lock. To prevent the door lock from damaging the ceiling during the folding process, we will not install the door lock in advance. If you need to move the house to another place and need to fold it, please remember to take down the door lock in advance also.
Basic Information
The standard size of the foldable container house unit is 5800mm * 2500mm * 2560mm (LWH). The weight of each unit is about 1000KG, considering the safety, we suggest you build it at most 2 floors.
The foldable container can be folded more than 2000 times, so it is very suitable for projects that need to change the site frequently.
Steel Plate Colors
The steel plate colors can be customized according to your requirements. But there will be MOQ, tell us your color option, and we will make a detailed introduction for you.
The commonly used steel plate colors are as follows:
Wall panel materials
| Structure | Components | Details |
| --- | --- | --- |
| Specification | Length*width*height | External dimensions: length 5800mm*width 2500mm*height 2560mm |
|   |   | Internal dimensions: length 5620mm*width 2260mm*height 2440mm |
|   | Roof form | Roof form and material |
|   | Folded state | 320mm (height) |
|   | Net weight | 1160KG |
|   | Drainage form | External drainage organization |
|   | Number of layers | ≤2 layers |
| Roof | External roof | 0.45mm cover steel plate + 40mm glass wool + ceiling steel plate 0.3mm |
|   | Internal suspended ceiling | 12 kg 50mm 0.326 Dongshang foam sandwich panel |
|   | Insulation board | 8kg 50mm 0.236 foam sandwich panel |
|   | Framework | T1.2mm special-shaped pass material Q235 |
|   | Hanging head | T16mm Q235 steel plate |
| Floor | Framework | Bottom side beam: t1.2mmQ235 galvanized steel pipe |
|   |   | End side beam: t1.2mmQ235 galvanized steel pipe |
|   |   | Beam: t1.2mmQ235 galvanized steel pipe |
|   | Bottom plate | T16mm magnesium oxychloride fireproof floor |
| Side Panel | All outer/end plates | 8kg 50mm 0.236 foam sandwich panel |
|   | Framework | T1.2mm Q235 galvanized steel pipe |
| Door | 1 exterior door | Steel frame; inner frame size: 977mm*2360mm |
| Window | / | 2*Aluminum alloy white unilateral sliding window, frame 930/1200mm |
| Folding Hinge | / | T3mm 180*76 galvanized hinge |
| Electrical System | / | Electrical wiring must be safe and concealed and installed in strict accordance with moisture-proof specifications. All electrical products must comply with CE certification and support European certification. |
| Technical Index | / | Voltage 220V, 50HZ |
| Circuit Composition | / | Connect the circuit according to the circuit engineering specifications. Indoor: wall socket. Light switch, LED light 2x16w. |
| Socket Distribution | / | Ceiling 16A three plugs*2, 10A five plugs with a switch at the front, one 16A air conditioning socket at the back, five plugs, and six. |
| Protective Coating | Overall framework | Electro-galvanized: zinc 10 microns; primer coating: zinc-rich 20 microns; topcoat: polyurethane topcoat 50 microns; total coating thickness: 80 microns. |
* Specification
Foldable Modular Homes Features
In the folded state, the height of the folding box room is only 45 cm, and about 12 can be stacked in the same space, saving more space.
The folding container house can also be checked in 6 pieces by ordinary self-hoisting trucks, and a maximum of 20 pieces can be checked in a 17-meter-5 truck, which can save users about 50% of the freight for intra-city transportation or long-distance engineering projects.
One folding container house can be installed in 10 minutes, and 3 people can complete the installation of 600 square meters of temporary housing in one day. It saves labor in the use of the project, and the installation efficiency is faster.
The patented profile is adopted at the folded place, and the design is high on the inside and low on the outside. It can be stretched freely and formed by one pull. It is not easy to be deformed after repeated folding and is effectively windproof and rainproof.
The interior space of the folding container room, integrated electrical system, no need for secondary construction, can place five high and low beds, large built-in space, beautiful and more comfortable.
Foldable Modular Homes Uses
The folding container house has the characteristics of fireproof, windproof, earthquake resistance, stylish appearance, complete supporting facilities, can be arranged according to the needs, and has a good living experience. What is the folding container room usage? It is available in construction sites, isolation houses, tourism, and other fields!
Isolation Houses
During the epidemic, the temporary nucleic acid testing stations and temporary isolation rooms built in many places are folding container-type rooms. Not only is it convenient to transport, and fast to build, but also has complete functions, meeting the living needs of medical staff and quarantined personnel, and also helping to control the epidemic.
Personal Use
The folding container room has the characteristics of strong mobility, open and occupancy, repeated folding, not easy to deform, not occupying space, convenient for shipping, fast installation, small storage space, elegant appearance, and practical interior. It is completely an innovation, and it also conforms to the concept of green, environmental protection, and low carbon.
Tourist
Nowadays, people like to go on a trip, and some people quit their jobs and take the whole family to see the world in an RV. It is possible to stay at home while traveling. Some people directly install a folding box room on the car as an RV, which not only looks beautiful but also has a perfect built-in, which makes the travel process feel like home.